I was mistaken, but now I'm not: Sebastiaan, Avalon and I are the only team members on this run who haven't been to Las Campanas Observatory (LCO) before. However, perhaps situation this extends to at least some of the avid blog readers, so I'd like to share what some of my experience has been like thus far.
Before that, I'd like to list a couple of additional tips to Joseph's travel steps on the way to LCO, and then out of the bubble.
Bonus step:
Our last two comrades, Logan and Avalon, are due to arrive tomorrow, and when they are on the driving portion of the trip from La Serena to LCO they may be asked to stop and fill out the daily health check form in the first guard post building they encounter. That was something new to Laird and me as Joseph and company were only asked to do so once at LCO. It may behoove Logan and Avalon to preemptively fill out the form ahead of time while at the La Serena airport (if you can connect to WiFi, which I couldn't) with something that looks like this:
passport ID#
place of work (mountain)
any of the following symptoms (no symptoms)
community exhibition (none of the above)
Now as far as the bubble procedure goes, you're more or less relegated to your room and the ample outdoor spaces appropriately distanced from everyone – except maybe your bubble cohort(s). When it is your time, i.e. the morning of the 4th day you've been at LCO, you will be beckoned to the paramedic on the mountain who resides in the bodega (image featured below).
More precisely you walk to the portable building next to a warehouse and behind the ambulance (also featured below) where you'll receive a rapid antigen test. Five minutes later you should theoretically have a negative test result and you'll be free to move about the mountain facilities with a mask on.
As this was the case for Laird and me, we went back to our rooms for a short spell, and then reunited with the rest of the MagAO-X team at lunch time.
Now since it was and remains irrefutably true that the answer to Laird's blog post from yesterday is yes, I had time to explore LCO today. (At least the pupil vignetting is no longer an issue, but what's a few optical hardware re-positionings amongst friends? Nothing, right? Okay, so not nothing… we're definitely going to realign the position of the science camera beam-splitter and possibly the LOWFS camera position tomorrow, but we're practically done after that…) Here are my results:
I went for a run, and I found some lively road blocks.
If I'm not mistaken, I made my way to the site of the 40″ and 100″ telescopes where I found another surprise.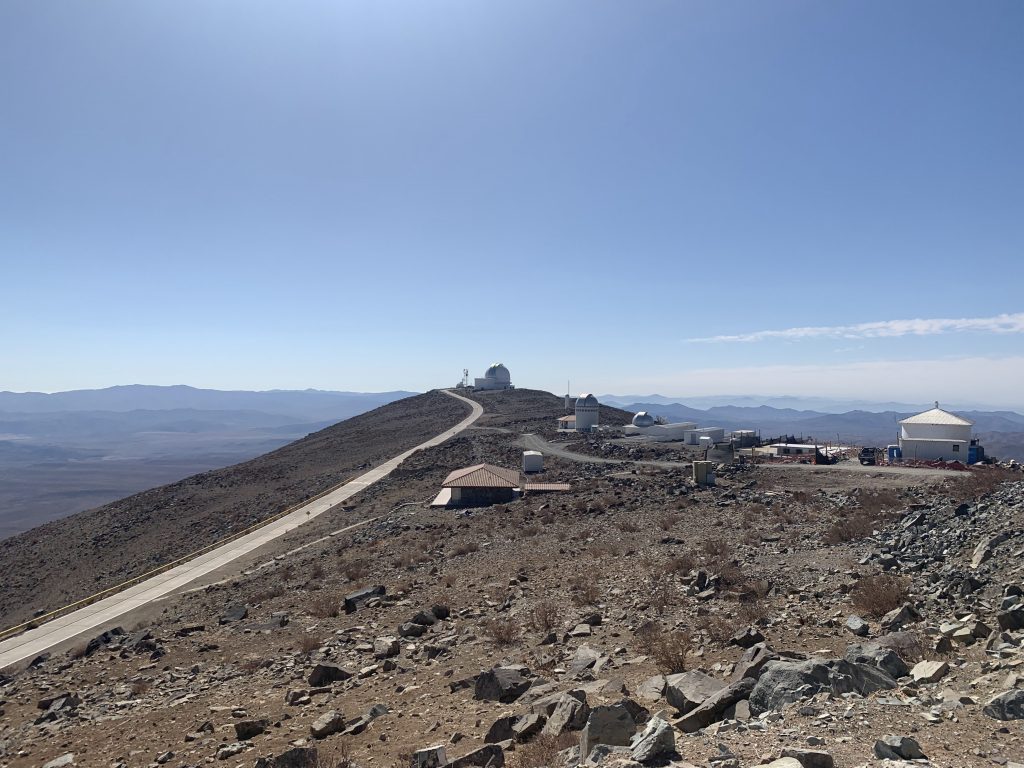 A Guanaco! Unfortunately I could only get within about 80 feet of it before it started to move away from me, so apologies for the poor image quality.
And finally after dinner while walking with Jared back to the cleanroom where MagAO-X currently resides, we snapped a few pictures of a culpeo. Jared definitely captured the best culpeo still, so kudos to him for lending it out for the blog.
I think that's all of the animals I'm likely to see minus the airborne ones, so not bad for one day. And for anyone wondering about the viscachas, I was actually with Laird when he snagged that viscacha duo photo – it counts!
I've lived in Tucson for a while now, so I'm definitely used to some spaced out housing outside of city limits, but scenes like this are completely foreign to me:
In other words, we're not in the suburbs anymore (Arcade Fire, The Suburbs).