It's been more than two weeks since the run began and the team's mood clearly shows a bit tired today, with less jokes and also, less people (thats surprisingly). I am Carla and will tell you about my days with you.

After my very long-awaited vacations I came back to the mountain with zero desire to work, but I was notified I will be with MagAOX team for the entire week. This news made me happy, and I started to think about the chilean sweet treat I was going to bring them. My favorite is 'CHOKITA' (a hard biscuit filled with vanilla cream dipped in chocolate) soooooo that's a fully yes, even if you find it too sweet I hope you enjoyed it. This time I tried to find the very chilean 'alfajor', I hope you liked them because it's a very traditional kind of cake we ate and prepared for the national holidays we have in september. I hope to be here next time you are here to bring more chilean sweets.

I had to admit I still get a bit nervous every time I had to operate a no-daily instrument, and MagAOX is one of them, specially this time because Jorge Araya wrote new notes in our procedures file. So I came early the first night – with all of the sandwich that I have to carry in two trips from my car to the kitchen – to go over all the "super long" procedure I have to follow for the night. As I am used to be physically alone most of the time at the control room, I was hoping to read quiet this webpage. But for my surprised you were all here, and you help me carry out the food. It was a nice surprised.

Apparently you are always 10 people team and this time there were new faces I didn't recognized from before … it was very nice to meet you. And now my no-desire-to-work mood it turned in a very crowded office but fun week. We began with the "XKID_blablabla.cat" catalog which makes me laugh, XKID sounds like a child channel in the tv, but I didn't ask. Also the very new procedure was we can't go inside the dome with cellphones, weird but you said something about the instrument would received signal from it. Again, I didn't ask to much. Just today you explained to me that it was a new camera that you used this week and today it was packaged off the telescope. Amazing techonoly you are working on!!! I fill super privileged to know you!!!!

I am also very thankfull for your kindess and for saving me from the very big tarantula. I am sorry if I scared you with my scream, I can not avoid it. But we are finishing the summer here at LCO and the spiders are all over the place. I am suffering with my aracnophobia … so thank you very much to put it back where it belongs … outside.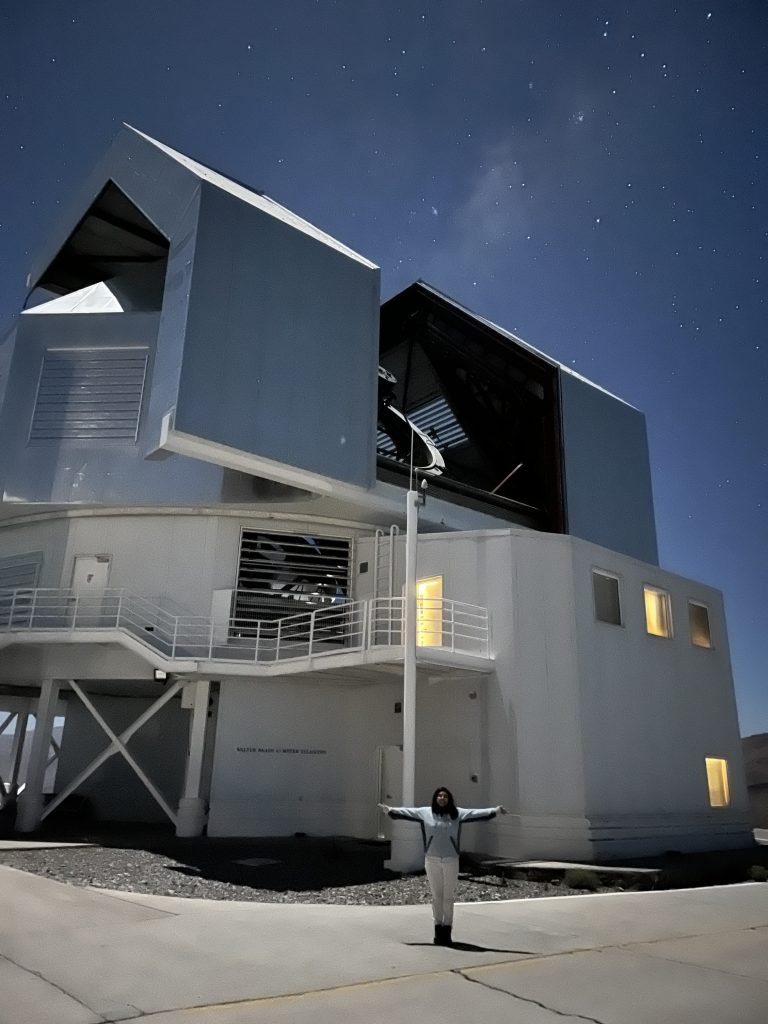 I have to admit that operate the telescope for MagAOX feels like I am useless, you do almost all the work. But I enjoy your company, hearing your stories and jokes, I loved we had time for night pictures (thaank you!!!) … also I enjoy your snacks.

Thank you for allowing me to witness the new technological generation for astronomy.

Song of the day

Here is my song, I hope you enjoy every instrument.
Los Jaivas are a group born 60 years ago, they perform this year at the "Festival Internacional de la Canción de Viña del Mar 2023" to celebrate their trajectory doing music from Latin American roots and their unic way of making sounds of ancestral instruments. Mira Niñita is song about a father talking to his daugther. I have never listening alive but the musical instruments lifts you into a cloud of emotions. Also my father always sings it to me. Try to listen to this group, is a very iconic chilean gruop.
See you nex time!