Today was almost a terrifying, cutting-into-the-ASM kind of day… but a bit of organizing and sparing saved the day! See Marco's lively post for the gory details — but we can now talk to the ASM from the control computer!!!  🙂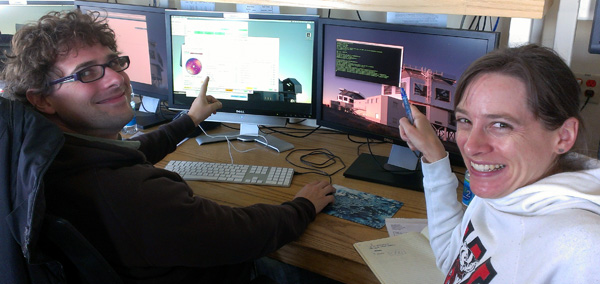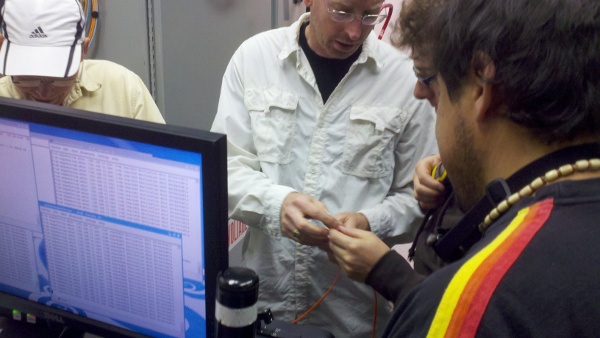 What happened was we thought we didn't have the right connector to repair the damaged fiber (from yesterday), but Jared was organizing some tools for mounting the NAS tomorrow and came across the necessary replacement part!  Phew, what a relief!  So now we can talk to the ASM, again just read all about it here courtesy Marco.
What else happened today?
Well, we always start with an 8:30am meeting in the library — every day, even Saturday and Sunday — to make sure everyone is on board for the day's events.
The days events were: Gabriel lead the charge to collimate the telescope, Derek and Laird aligned the laser, the crew worked on balancing the telescope, and we took over the Clay control room.  Also, we played some frisbee, this may be a regular Sunday MagAO team bonding exercise.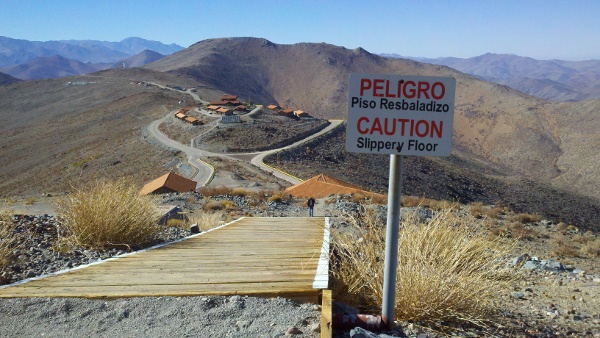 After figuring out that we didn't have to tear into the back cover of the ASM, the big happening was opening the primary mirror covers. We first turned on our alignment laser, which tells us whether the ASM has any tilt to it as mounted. Incredibly, the alignment laser landed in the collimating eyepiece on the first try. It was a little off center, but so close that we can't be sure that the laser itself isn't the problem. We have some more testing to do tomorrow, so we may still have to shim a little bit. That means we'd loosen some bolts on the ASM mounting structure and insert some metal to change the angle of the ASM. But we might not have to – it looks like we're good. Keep your fingers crossed.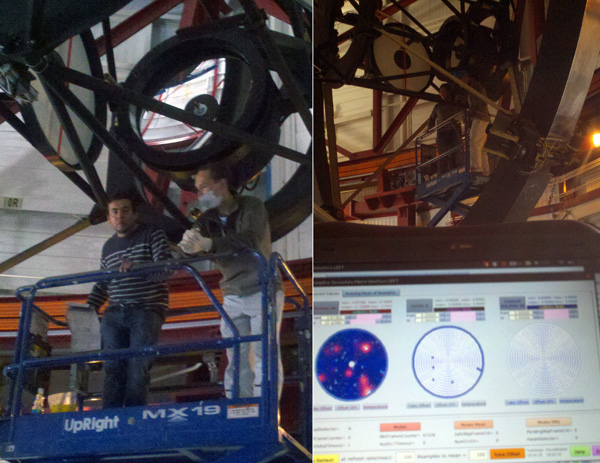 Tyson completed the finishing touches of his cable wrap: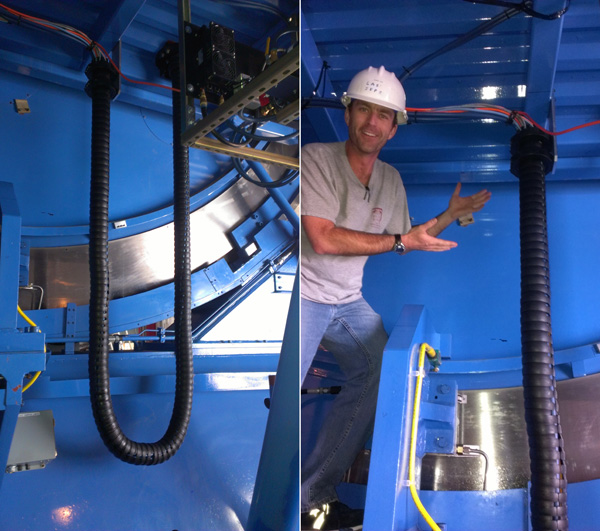 Alfio and Jared knocked out a bunch of tweaks to the control software today, including fully integrating some custom wavefront sensor camera controls that will make it easier to work on bright stars.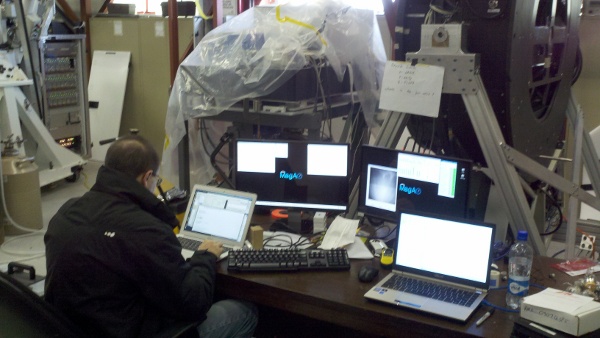 After we convinced ourselves that the tilt of the ASM was as good as we could measure, Laird and Jared measured the distance to the thin shell vertex from MagAO's nominal focal plane (with some offsets for how we took the measurement). It isn't exactly right, but (as with the tilt laser) it's likely that we aren't actually measuring the thing we want to measure. We'll have to look at a star to really understand it. This could also lead to some shimming, but we're confident that we got it right.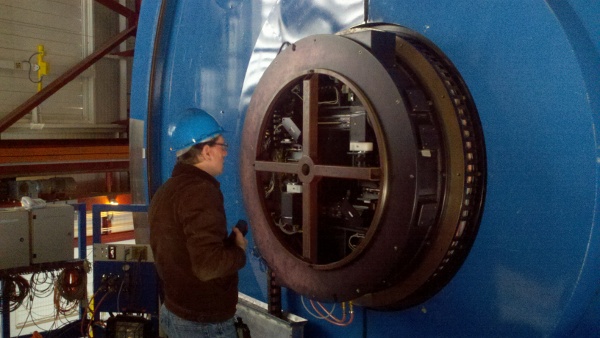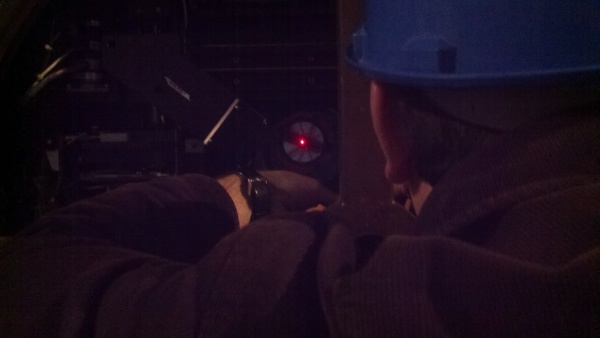 Overheard at LCO today:
Laird: "Why don't you guys go play in the intersection!"  (Frisbee time)
Laird: "I have a Telecon with my daughters."
Marco: "Hey Alfio, I found a bug today."
Alfio: "A Bug!"  (Seriously alarmed—What in the world could it be???)
Marco: "Yes, in my code."
Alfio: "Ahhh, in yourrr code."  (Sigh of relief—the Universe makes sense again)
Jared: "I'm so happy Alfio is here! We're getting stuff done."