The year is 2001, I am a fresh faced young junior at Purdue University. I did the traditional college path, straight out of high school. I distinctly remember having the thought that I didn't want to acquire the taste for either beer or coffee, because both seemed problematic. Then I joined the Navy.
So I now absolutely blame the Navy for my love of both coffee and beer. 100% their fault. The first beer I tried and liked was literally the same week I moved to Jacksonville Florida to start my first tour on a ship. They are to blame for all my bad habits don't at me.
Coffee onboard ship is the elixir of life. We had a coffee maker on the bridge of my first ship, and the giant tub of coffee grounds next to it was labeled "The Precious" (it was 2003, Lord of the Rings was still fresh and new). When you're on the 0200-0700 watch, absolutely nothing is happening, your watch team is full of boring people, or they won't shut up about World of Warcraft (true story), coffee tastes like salvation. (Incidentally, I feel the same way about Red Bull. Is it gross? Yes. Does it taste like salvation? Also yes. The aircraft carrier I was on had a Red Bull vending machine).
Thing is, coffee on ships is universally pretty bad. USS First Ship had this machine in the wardroom that didn't even take beans, it took this brown sludge of like pre-made coffee stuff? I don't know. But it was there and it delivered caffeine, so I drank it. (One day the supply officer was on leave, so we mutinied and threw the machine away. When he came back and noticed it was gone, he just ordered another one. A failed mutiny.). USS Second Ship tried to make things better by getting Starbucks beans for the wardroom machine (this time it did take actual ground coffee beans). But the coffee was still being made by Petty Officer Timmy who knew nothing about making coffee and didn't care to learn. In summary, I didn't like coffee at all until I was forced to learn, and I learned on terrible coffee.
It's been 12 years since I left the Navy (whoa, really? dang). I still have a daily coffee habit that is very insistent (my 16 oz travel mug is my security blankee). Without my morning 16oz I can't function, and my brain gets foggy (caffeine is a hell of a drug). But sorry to report my palette wrt coffee hasn't improved much. I can't quite choke down the sludge from ships anymore (although desperate times and all that…), but honestly I don't really notice the different flavors or quality. I'm happily surprised when coffee I make tastes especially good, but also like as long as it tastes fine it gets the job done. When I stand in the coffee aisle at Safeway I shrug and grab something. But I always have to grab already ground beans, because I don't have a coffee grinder. Because that's one extra step in the morning and I really don't care all that much.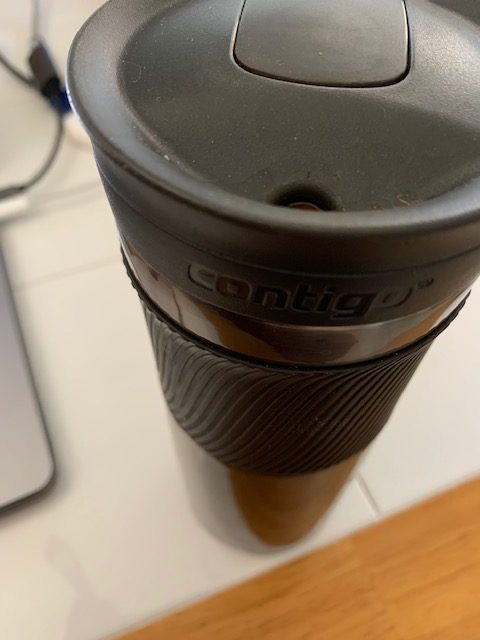 Well, dear readers, imagine my dismay when I opened a bag I bought the other day to see whole beans staring back at me. I did not pay sufficient attention at the store it seems. What am I to do? I can't return an open bag of beans, nor can I throw it away, that's ~$12 and perfectly good coffee. So to Amazon I go, and my new coffee grinder arrived two days later.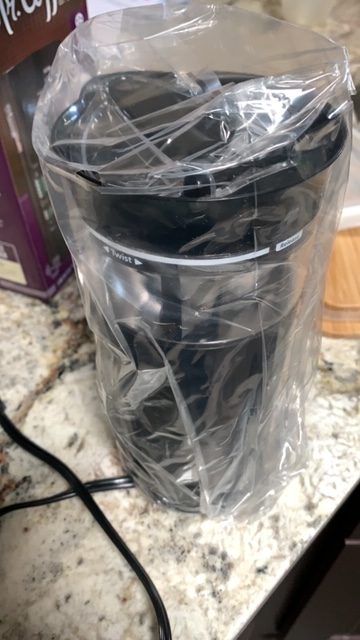 But therein lies a problem. I know my daily number of scoops of my designated coffee spoon (a regular spoon sitting next to my Mr Coffee) for grounds to compliment the amount of water I need, thanks to 12 years of doing this every day. But how many scoops of whole beans? What is the whole beans to ground beans conversion factor? Unknown. And since I don't care nearly enough to do any sort of research, I just shrugged and went for the faithful try-it-and-see method.
Readers, 5 scoops of whole beans is not enough. The first go round yielded undrinkable light brown water. Also did you know there are different ways to grind beans?? "Medium" was insufficient. Next try was 7 scoops ground on "Fine". This yielded slightly darker brown water. After that I gave up for the day and drank a yerba matte I had in the fridge to get my brain to work.
Today I decided to go overboard, I tried to fail on the other end and make it too strong. I did 10 scoops of beans on "Fine". This completely filled up the basket in my little 5 cup Mr Coffee. The result was… pretty good. I drank all of it, it didn't taste too strong. 10 scoops seems like a lot though.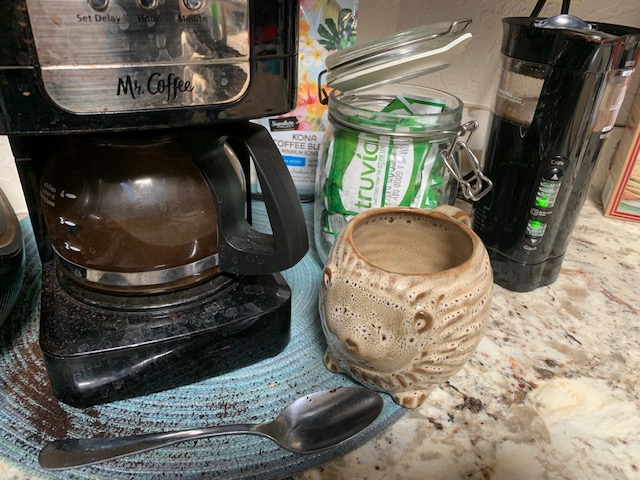 I understand a lot of people have really strong opinions about coffee (dare I say… snobbery?). I bet a lot of you reading this are sputtering and have many things you'd like to say in reply. I understand that freshly ground coffee is supposed to taste so much better than grounds because oxidation or oils or something something something. Listen, I get it. I hear you. I believe you believe that. I believe it's very important to you. But honestly, it just doesn't matter to me. My coffee today was good, but was it so much better than just buying grounds and skipping the extra step in the morning? No, friends, it was not.
Maybe my coffee taste buds are broken, seared off in their youth by a thousand terrible ship-coffees. I will continue to experiment with the bag of whole beans, and maybe I'll update you as my experiment continues. Will I buy another bag of whole beans? Maybe? Probably? I mean I have this grinder now, might as well use it. Will I also buy already-ground beans. Yes, yes I will. Nothing you can say will change that simple fact of habit and broken coffee taste buds.
---
The song of the day is Volcano Man from the Eurovision Netflix movie that just premiered. You're welcome, Lauren.