Let's face it. I am bored. You are bored. We all are bored. We have been in social isolation now for over a month, and if you are like me, nice clothes, makeup, even jeans are a thing of normalcy past. Every day I have been hovering between pajamas and gym clothes.
One of the ways I have been spending my time in quarantine is watching too many YouTube videos. One of my favorite Youtubers is Jenna Marbles, who specializes in wacky crafts and activities that no one else would do because they are too much money and effort to justify the couple hours of fun you get out of them. For example in one of her videos she turns herself into a disco ball. (Although I really recommend her videos there is some swearing in them).
Some of my favorite videos she makes are about activities she comes up with to spend time with her dogs. I am currently quarantined alone with just my cat for company. Although Katniss was very happy to have me around for the first week of quarantine, the novelty of having me around all the time has worn off. Our daily routine invovles me attempting to work, and her sleeping on the couch next to me. For this blog post I am going to emulate Jenna Marbles video where she has her dogs choose her makeup for her. I thought it would be a nice change of pace to get out of gym clothes, and has the added bonus of being something I could do with my cat.
Part One: The Selection Process
I have to admit that Katniss was a good sport during the selection process. I had thought this was going to be another Easter Egg Hunt incident. What I did for most of the selection process was lay out my makeup on my coffee table, place Katniss in the middle of the makeup, and whichever one she goes to first was the product selected.
The first round was lipstick. Katniss started out strong with a bold choice of gold lipstick.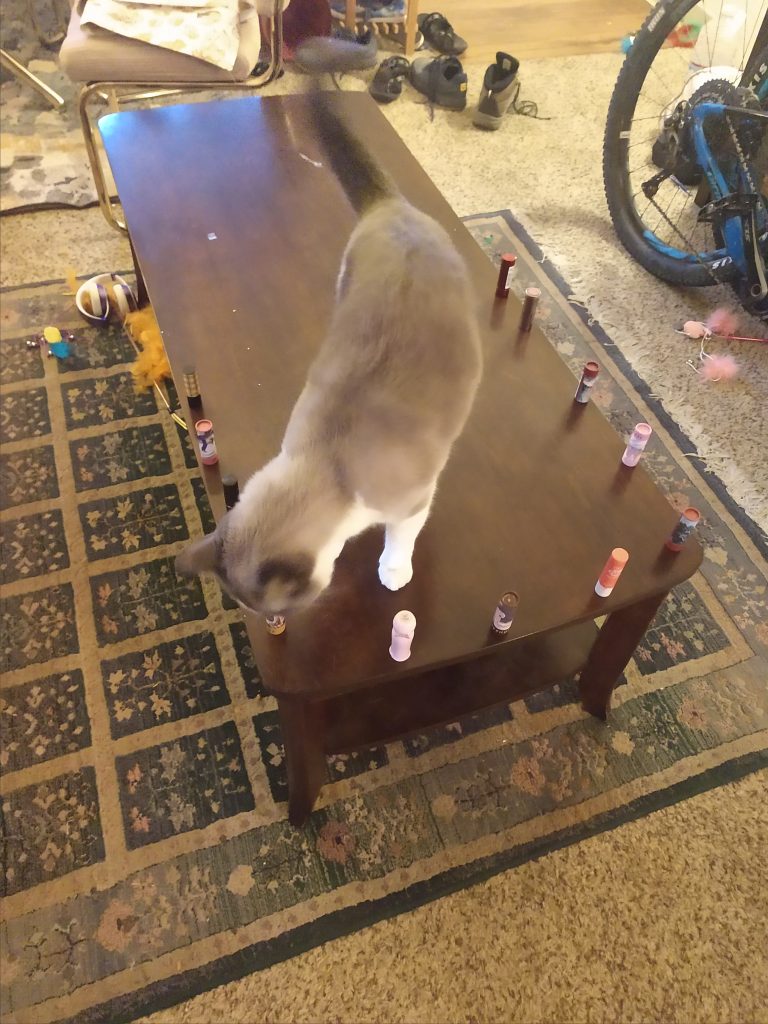 Next was highlighter. She chose a very nice shimmery champagne color.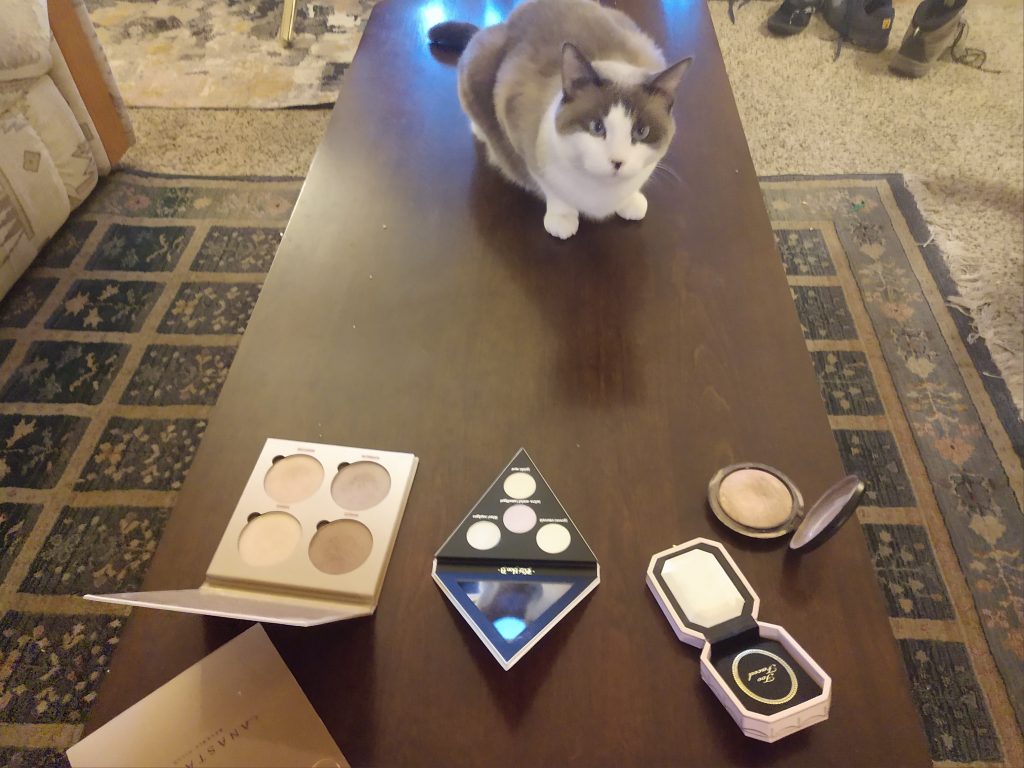 Next was eyeshadow (yes, I know I have too much stop judging me). I decided that I would let her pick three colors. She chose Vanity, a dark purple color by Urban Decay, Venetian Red, a redish orange color by Anastasia Beverly Hills, and Fairy, a gold color also by Anastasia Beverly Hills. I was really excited for the gold color, because then I coud potentially make my gold lipstick work. The wildcard for these colors was the dark purple, because I typically don't wear dark makeup.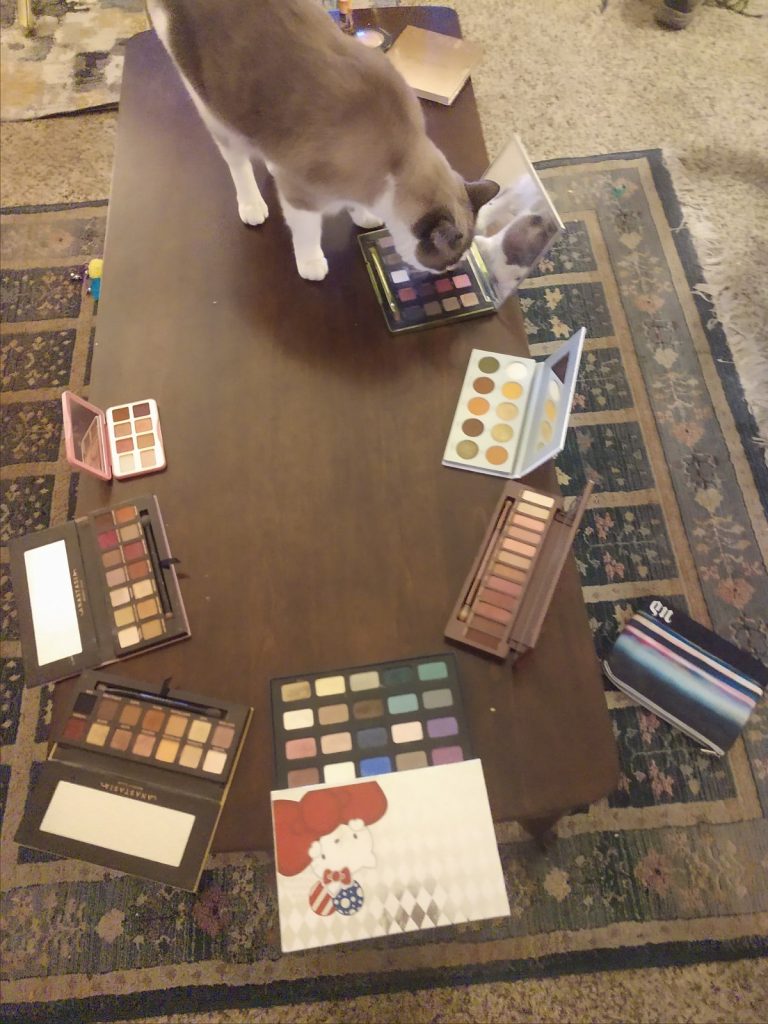 It was at this point that Katniss started losing interest and I had to bring out the treats. I decided for mascara I would put a treat in front of each choice and whichever she ate first I would choose. She was very nice to me, dodging the bright blue, bubblegum pink, and false lashes choices for standard black.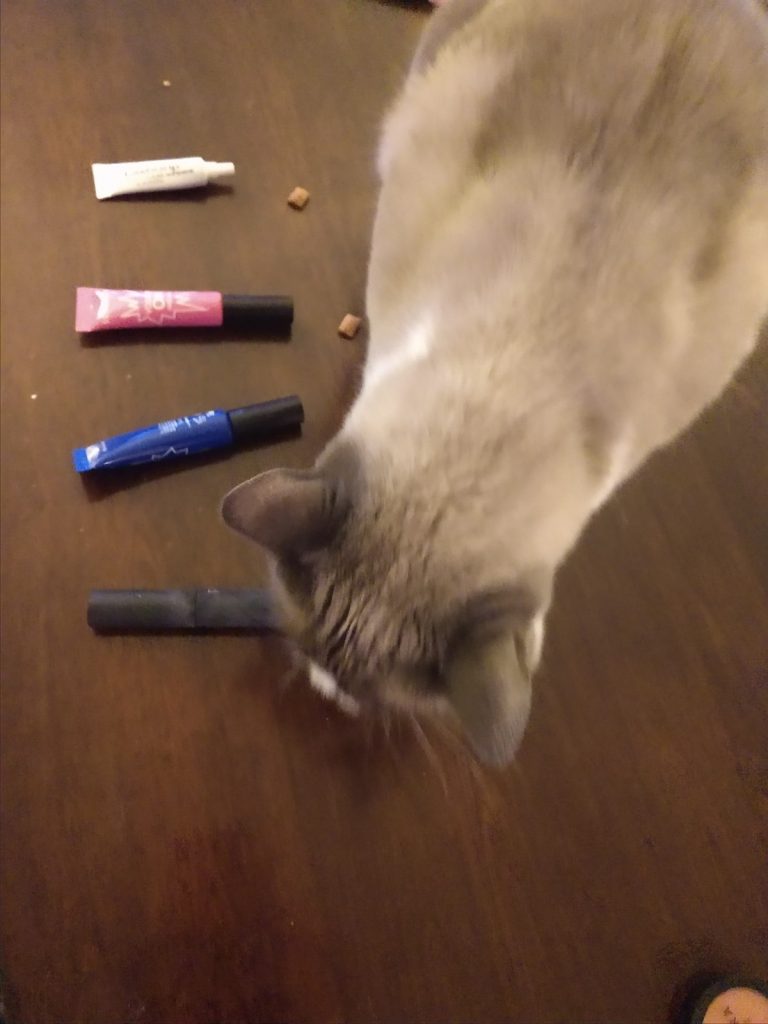 Last but not least, eyeliner. I decided I would do the opposite of mascara, and whichever treat she ate last was my choice. She decided to throw me another curveball with bubblegum pink. The other choices were black, blue, and gold.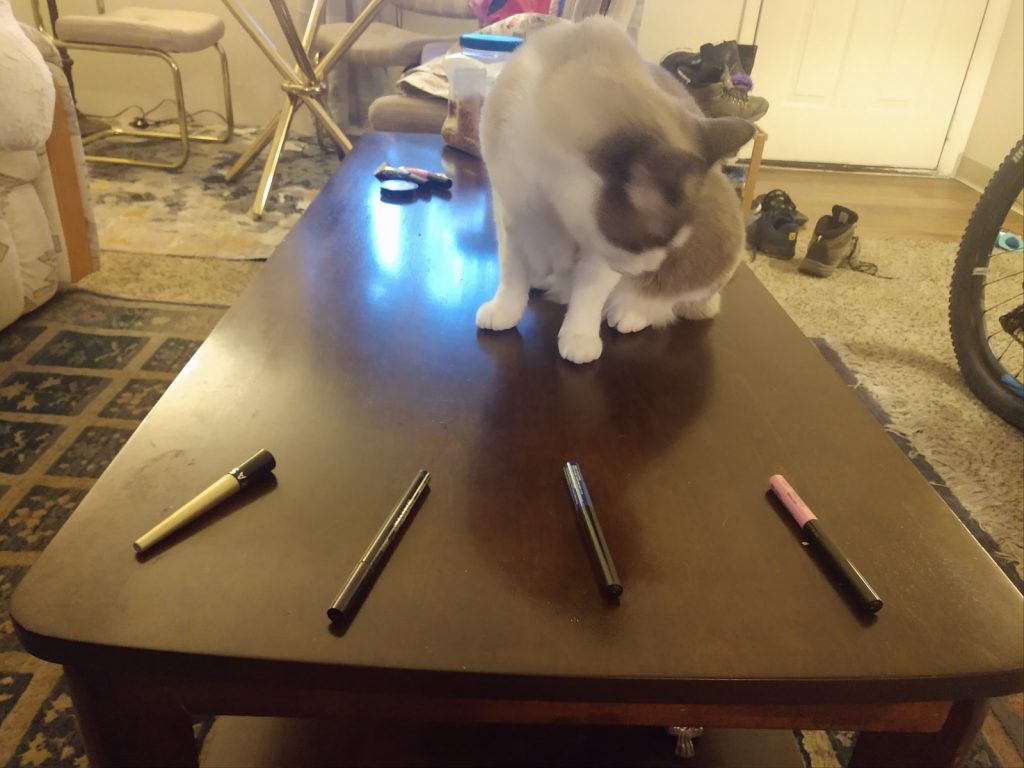 Part Two: Putting on the Makeup
First step of my 'getting ready' is to PAINT MY FACE GREEN. Bet you all weren't expecting that.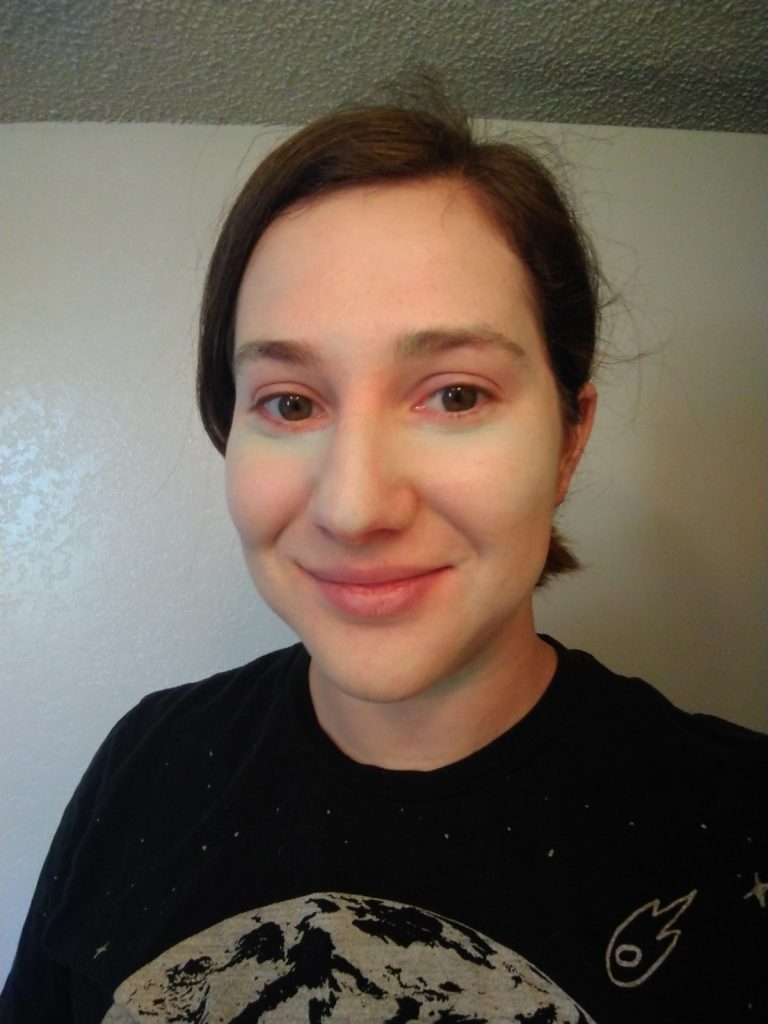 Next I put on foundation, powder, bronzer, blush, highlighter the boring stuff that doesn't deserve details or photos. Next step is eyeshadow and eyeliner. I have been seeing a makeup trend where people use colored liquid eyeliner to outline the lids of their eyes, instead of putting the eyeliner near the lash line like usual. I decided to try that out because Katniss chose a pretty wild eyeliner color. After that I put on my crazy gold lipstick to finish the look.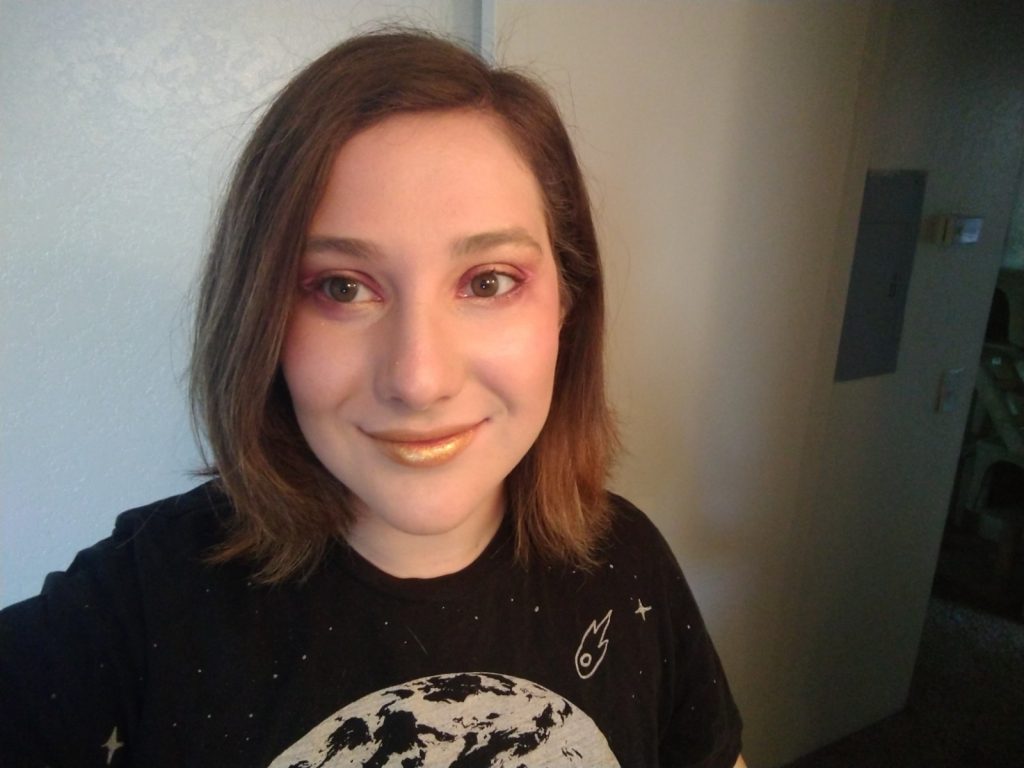 Part Three: Socially Distant
So now that I am all dolled up what I am going to do? I ultimately did end up wearing the makeup to team meeting. Did anyone care? Well not really. But it entertained me for a good half a day between picking the makeup with my cat, and putting it on so I count it a win.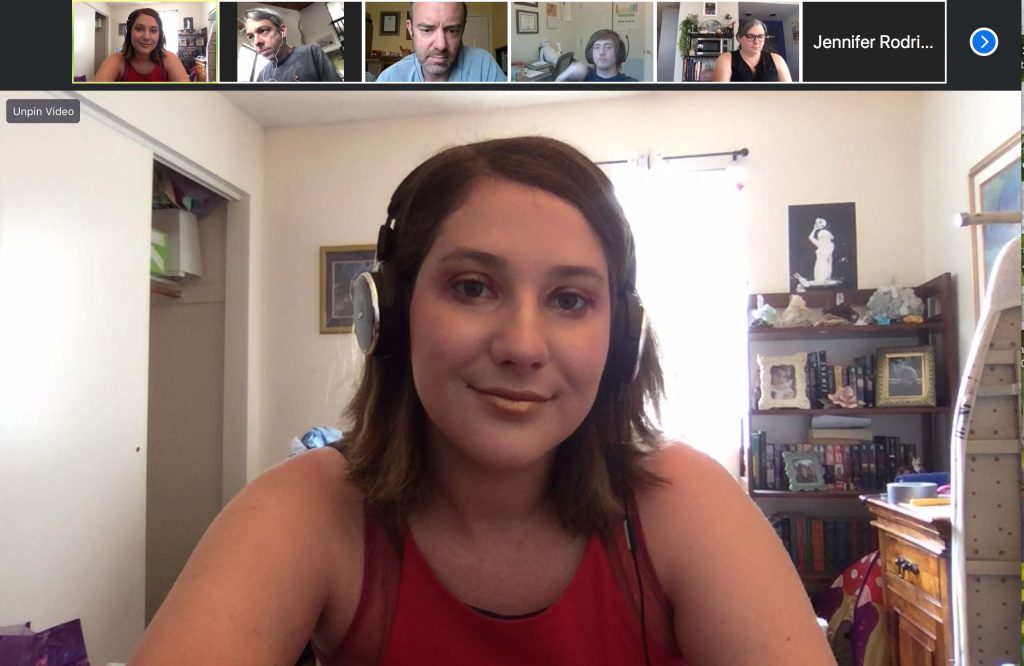 I did get some reviews from my friends in the group.
"Are you in a music video?" -Joseph Long
"Is there a socially distant rave tonight?" -Logan Pearce
"Eurovision may be cancelled, but you're letting it live on with that shiny makeup!" – Jennifer Lumbres
Well that was it. Thanks for getting this far reading my completely selfish and mediocre content.
Song of the day: Keep battling those quarantine demons everyone.