Carbohydrates compose what are good in life: rice, noodles, bread. While Tucson has some very solid Asian noodle options (Noodleholics, Fatman Kitchen, Tuk Tuk Thai, Miss Saigon, Raijin Ramen…), I still reach out for the instant noodle packages that I buy from my local Asian markets. Come take a journey with me through some instant noodles I've been eating lately.
INSTANT RAMEN
Most Americans are familiar with Top Ramen or Maruchan when it comes to instant ramen and its affordability ($0.10/packet). Instead of Top Ramen, I grew up with my family eating Sapporo Ichiban, particularly Original flavor. You can find it at some major grocery stores, but they can be as expensive as $1/packet. My family usually buys Sapporo Ichiban packets in a 24-pack box from the local Asian market for $14ish. I grew up with my parents managing a big household, from as few as 5 to as many as 12 people, and they made sure to never skimp out on good instant noodles.
Instant ramen is only a vehicle, it is up to you to own up to the flavor you want through the toppings. I enhance the soup base with stuff in my pantry – garlic paste/powder, ginger paste/powder, chili bean paste. I squeeze in fresh lemon juice (but only for the Original flavor, doesn't quite work well with the others). I top it off with fresh chopped green onions. The easiest protein to add in is egg. In my opinion, boiled egg is the best version. However, if not available, then I usually cook the egg in the pot while the noodles cook. I wait until the noodles soften up enough, usually about 1 minute in, then drop in the egg. I don't like mixing the egg around, I like it practically poached. There are others who will disagree and say the mixed egg is superior, but we can all agree that ramen is not complete without egg.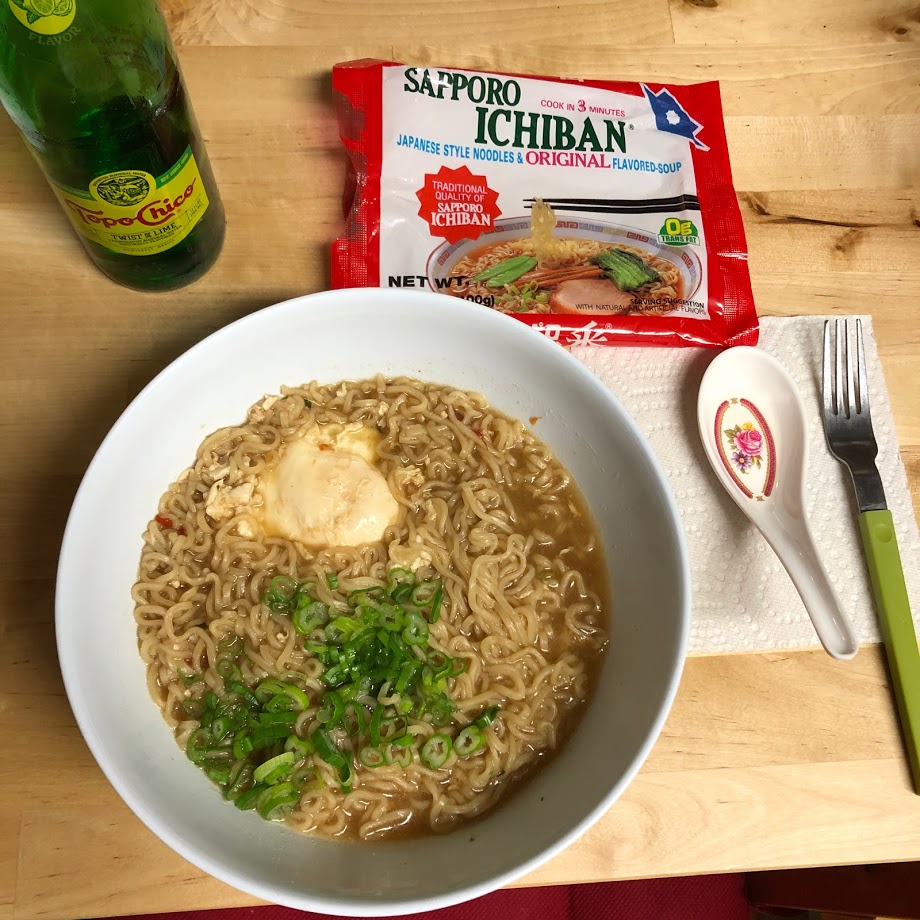 Other recommended toppings are pickled ginger, or whatever pickled vegetable is in your refrigerator. (I maintain a steady supply of pickled cucumber and yellow pickled daikon radish) Leftover meats are always great, like some beef Bulgogi or chopped pork belly. Aldo and I once went through the whole two-day process of making chashu pork. We overnight steeped soft boiled eggs in the leftover chashu pork sauce. Instead of us making our own ramen base and noodles, we served and ate it with Sapporo Ichiban. Still turned out fantastic.
The one thing I don't like about instant ramen is how the broth thickens up after it has cooled down long enough. My best friend (hi Michelle!) recently recommended the Menraku brand to me. I found a packet locally and it costs $5 for 2 servings. I bought it while shopping at Sandyi Market, a local small Korean market near midtown Tucson. Highly recommend them for more specialty Korean items if Lee Lee's isn't good enough. They earned my loyalty when I found they sold my preferred brand of honey citron tea (Sura Wang).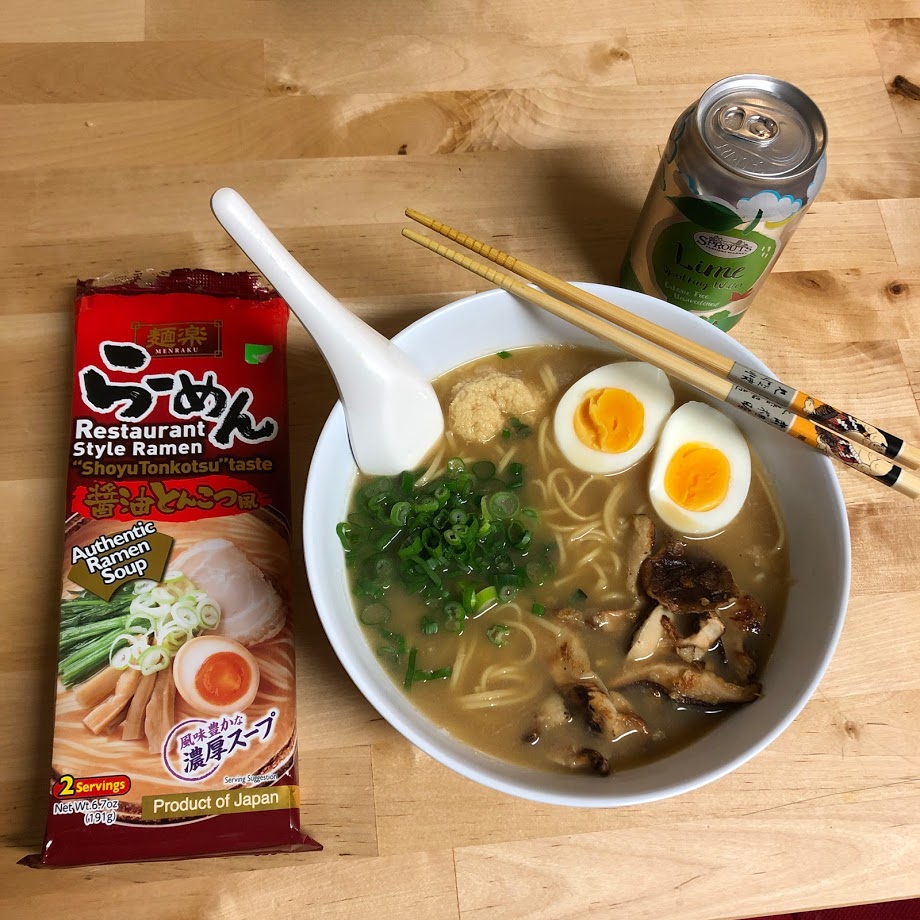 I went a bit further for this one by adding in sauteed sliced shitake mushrooms in minced garlic. I wasn't in the mood to drop cook the egg, so I boiled eggs separately for it. The noodles for this one is unusual in that it's not the usual curly fried noodles but rather straight, dried noodles bundled like soba. The broth was super good and did not thicken up while eating. I highly recommend these noodles if you want to go a bit fancier at home.
INSTANT PANCIT CANTON
"Pancit" in Tagalog translates to "noodles", and usually the word after it is the style. (Technically it should be pansit because there's no letter "c" in the Tagalog alphabet, but it's commonly known as pancit.) Pancit Canton is basically Chow Mein. I tasted pancit canton for the first time when I was 10 years old and relocated to the Philippines. It quickly became one of my favorite things to eat. When I relocated back to the US at 13, the only version my family could find was the original flavor. But I like the kalamansi (Philippine lemon) version, my brother liked the spicy one. When my parents traveled to the Philippines for family-related business, they always brought back shoeboxes full of those noodle packets for us. Here in Tucson, I drive to Nick's Sari Sari Store in the east side to buy instant pancit canton. It takes me 30 minutes one way, but it's always worth it because I get to practice my Tagalog and it's my small dose of Filipino community in Tucson especially when I am feeling homesick. Sometimes Lee Lee's has it, but there were a few months where it wasn't available.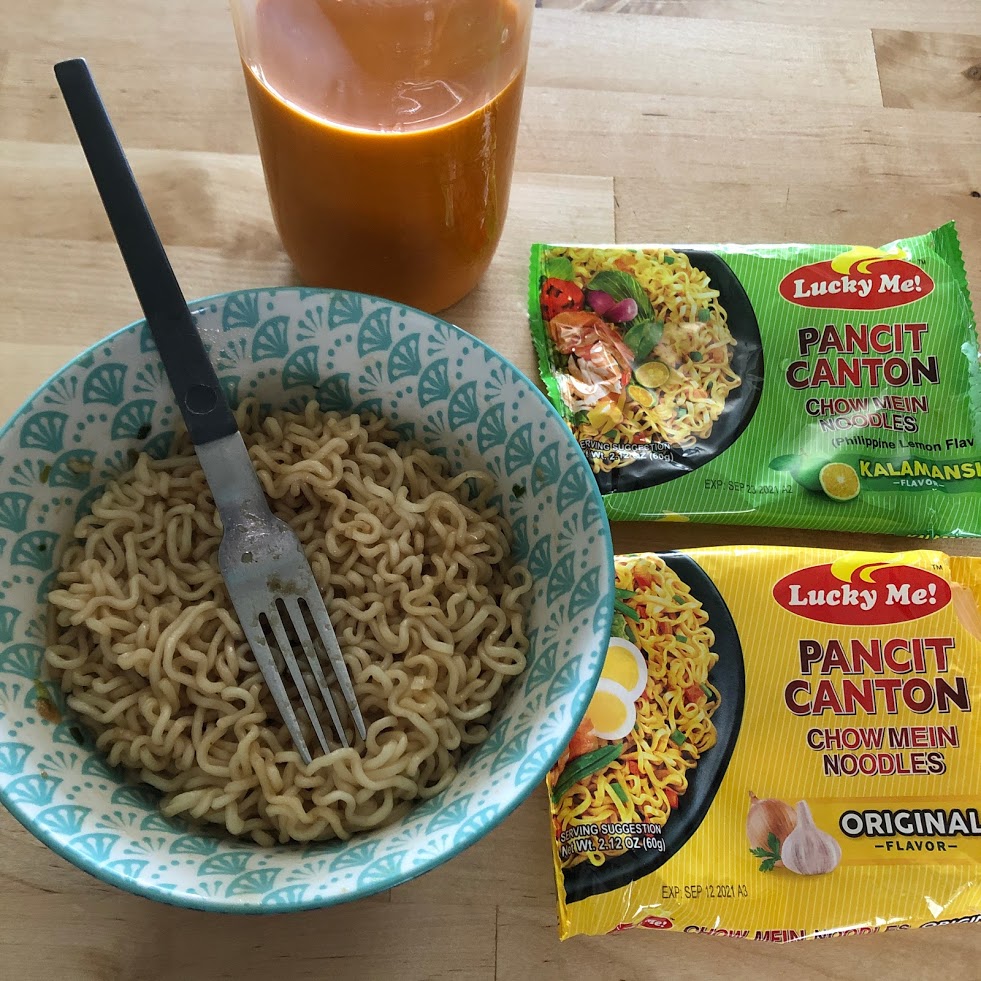 Unlike instant ramen packets, instant pancit canton comes with an additional packet filled with oil and sauce. Depending on the weather, the oil may solidify. While the noodles are cooking, I liquefy the oil by hand using my body heat. I also use this time to mix together the powder with the liquids, so when the noodles go on top, it all blends in together. Instant pancit canton also tastes really good with Chinkiang vinegar, which blends in just right with the oil.
KOREAN INSTANT NOODLES
Sandyi has a whole aisle dedicated to instant noodles that are worth perusing. I've only sampled saucy noodles so far and have liked each one. A lot of the noodles tend to be spicy, but note that Korean spicy is its own game. It's a quick, compounding build-up of spicy that stays in your mouth. It makes you eat more and more, just to keep the spicy at bay. However, once your meal is over, the spicy feeling lingers away from your mouth 5 minutes later. It's a spicy where I need to take off my jacket and socks because my whole body is warming up and starting to sweat. It's the best kind of suffering, existing only while you are eating and not a long haunting. I love eating Korean spicy noodles in the colder months.
The first Korean instant noodle I tried is from a brand called Paldo. I picked it because I thought the picture of the chicken on the bag was cute. This one was interesting for me, because I had to save some of my starch water before straining the noodles. I followed through the process, returned the strained noodles in the pot, added the sauce packet, then mixed it together with some starchy water. I would say it's similar to making pancit canton, but with an added step.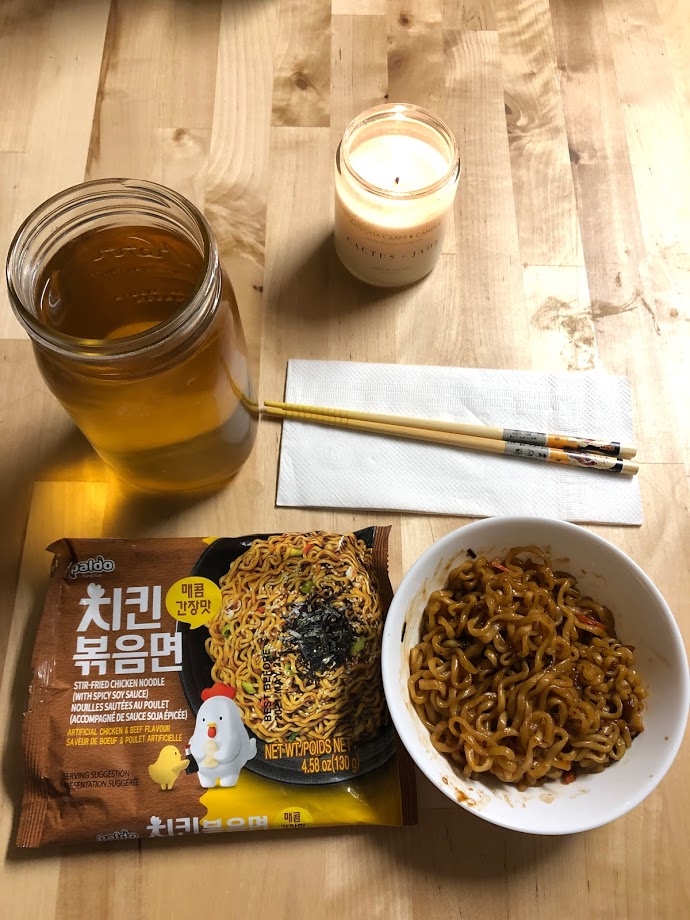 The second Korean instant noodle I tried is Chapagetti. According to Wikipedia, it's "the second highest-selling brand of instant noodles in South Korea". It was also featured in the movie Parasite, to which the company Nongshim released an official video on how to cook the recipe with Chapagetti. Cooking this one was interesting, because the directions tell you to dump everything in the pot and you cook it to the end. I didn't do it that way, instead I went through the same process as the video and the first noodle packet I tried. Still came out great.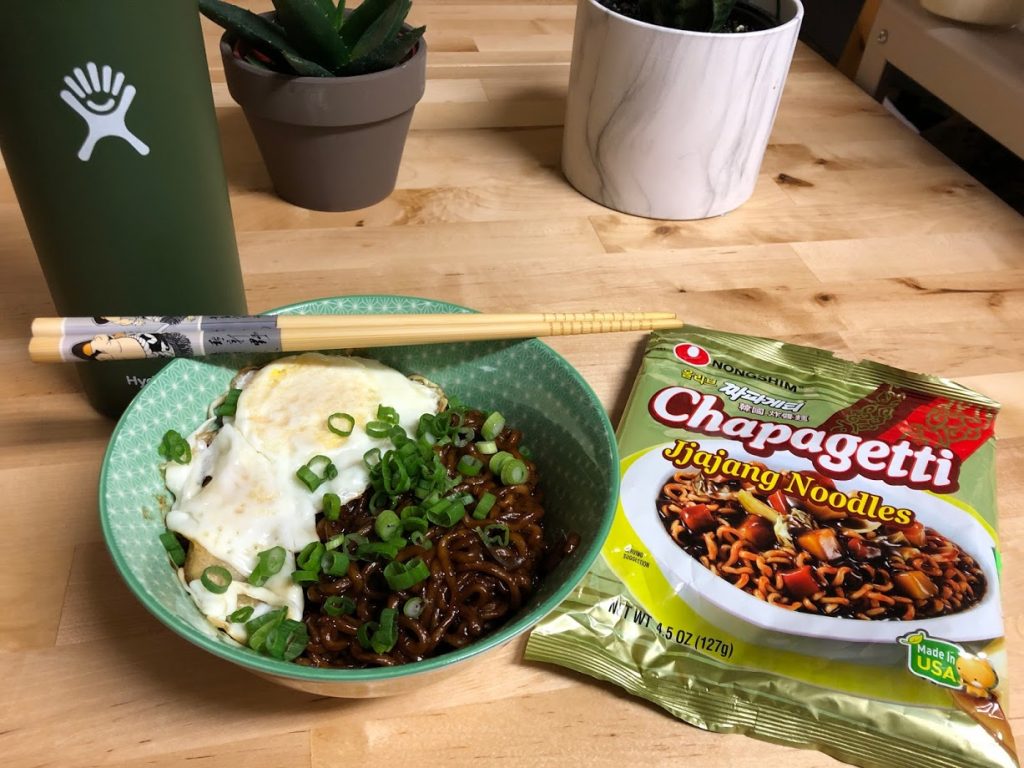 MOROHEIYA NOODLES
I first found this noodle a few years ago as the Marukai's free sample of the day. It's made from moroheiya (mulukhiya), which is a leaf packed with lots of nutrition. I sampled the boiled noodle mixed with miso and mustard dressing. I was pleasantly surprised by the flavor that I bought some. Here in Tucson, you can find the noodles at LeeLee's. The dressing is sometimes available at LeeLee's, but I've definitely found it at Sandyi. The package comes with 2 noodle bricks and I find that 1 brick is a fairly hearty snack. This is one of my favorite things to eat on a hot day. They also have a yakisoba version which is pretty solid.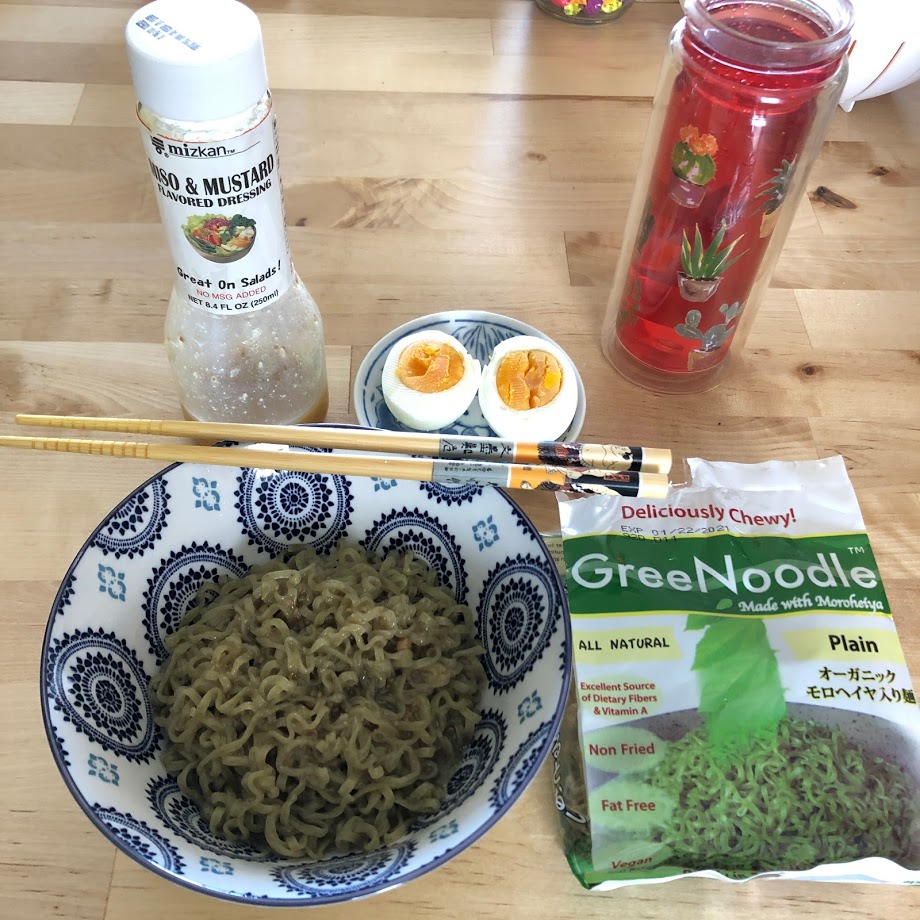 CUP NOODLE (NOT CUP NOODLES)
I know I talked a lot about packet noodles, but what about the cup variety? I didn't eat Cup Noodles until my high school years, and I found it lackluster as opposed to cooking over a stove. I did however learn that Cup Noodles is the American variation for Cup Noodle, which is the Japanese version (source: Serious Eats). I had planned to visit the Cup Noodle museum in Yokohama, Japan during the SPIE Astronomical Telescopes and Systems 2020 conference, but alas the conference and travel did not come to be. It's surprisingly tricky to find Cup Noodle in Tucson. I eventually found some at Kimpo Oriental Market, a Korean market on the east side of town. They sell fresh rice cakes on Wednesdays, so I'll be back one of these days so I can make tteokbokki.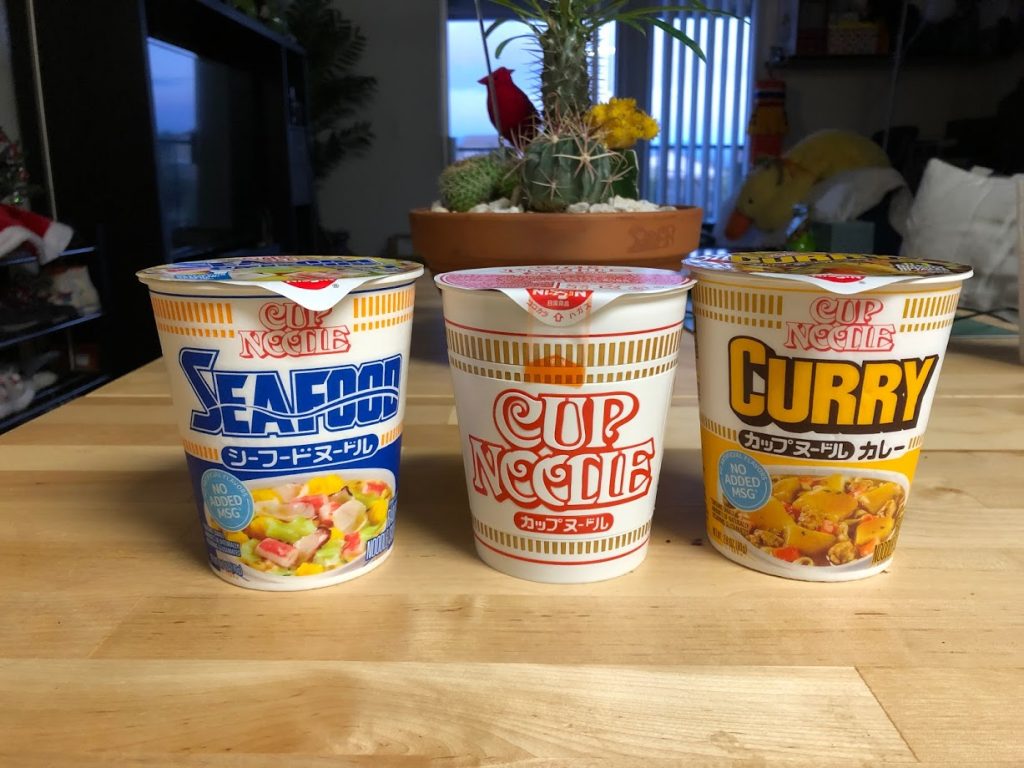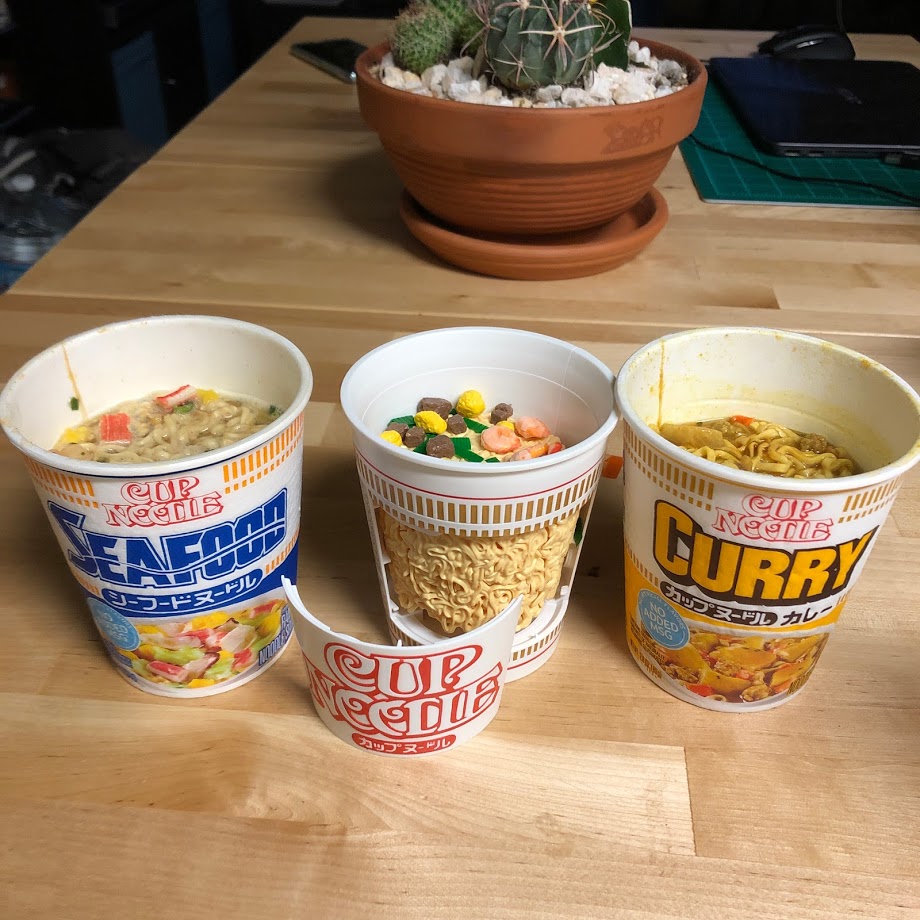 The flavor base for the curry and seafood versions were very solid. There was a dried potato in the curry one, but I wasn't a big fan of its texture. I also didn't like the texture of the noodles too much. I've been spoiled for too long cooking instant noodles over a stovetop that it's very hard to go switch over to a cup version. But, that still won't stop me from sampling other flavors as I find them.
FINAL COMMENTS
This was only a small list of instant noodles I've tried and enjoyed. There's a few others I like that didn't get mentioned. I've also tried other yakisoba type noodles; Sapporo Ichiban is good, but I think GreeNoodle's is better. I've tried some instant udon buckets, but they were only alright. To my memory, I don't know if I've tried an instant rice noodle packet that I liked enough to eat again. I do have a packet of instant pad thai that has been sitting in my noodle stash for a while now though.
Also, there's many ways to spruce up instant noodles. I'm interested in recommendations for other instant noodles and how you spruce it up. Instant noodles may not be a complete replacement for the real dish at a specialty restaurant, but that shouldn't stop anyone from trying to make it better from home. As Chef Jon Kung said, "take what you like and do too much, otherwise what is the point of cooking at home?"
BONUS
I watched a cute Chinese romcom movie called "This is Not What I Expected" on Netflix a few months ago. I think it's still up there. It revolves around a very particular hotel owner foodie and a walking disaster of a sous chef. It's cute and there are a few great scenes revolving around instant noodles! Please give it a shot if you have the time.
SONG OF THE DAY
My favorite song by BTS is a version without them singing. (Go figure.) But if I had to pick a lyrical version, I think the Korean version is better than the original Japanese version.