Central Texas, the region that encompasses Austin, San Antonio, and surrounding towns, did not invent the breakfast taco (well, at least Austin didn't, more on that later). Breakfast tacos have been popular in the region since the 70s (source), but with the massive influx of hipsters and their penchant for brunch, niche trends, and "authenticity", to the region in the last two decades, breakfast tacos have become part of our identity as central Texans.
I can't overstate it enough. They are simply everywhere. And everyone has their opinions, their preferred breakfast taco purveyors, their taco of choice. I bought a Tacodeli Jess Special from the little coffee shop in the lobby of the astronomy building at UT Austin almost daily while a student there. The Royal Blue grocery downtown next to where my church met fed me pre-made tacos quite often on a Sunday morning. Rudy's BBQ makes a mean brisket breakfast taco. Torchy's tacos are just about everywhere in Austin, and spreading like wildfire across the nation. My favorite taco joint, Taco Joint, is a stone's throw from the UT astro building and makes huge breakfast tacos, as does East Austin's Juan in a Million. Just to name a few.
(Incidentally, I just learned there are 3 Rudy's locations in Phoenix, so if anyone wants a road trip for legit good Texas bbq and breakfast tacos, hit me up!)
Anyone who has not lived in central Texas is like "What? Do you mean breakfast burritos?" No, dear reader. I do not mean breakfast burritos. In fact you'd be hard pressed to find a breakfast burrito on the menu in Austin. Meanwhile anyone who has lived in central Texas for any amount of time immediately knows what I'm talking about and resonates with this post deep within their souls. (I maintain it is not enough to simply have visited. If you've visited Austin and enjoyed a breakfast taco, you can probably appreciate them as a novelty, and I'm glad you got to experience them, but probably not enough to really "get it"). It is simply a part of who we are. And while if you didn't go to high school in Texas, you can never truly be accepted as a true Texan (this is a fundamental truth in our culture), you can don the breakfast taco mantle to embrace central Texas into your identity. (Now, this does not ingratiate you to the rest of Texas, but that's a story for another time).
What is a breakfast taco?
Well, what do you want it to be? While generally eggs and a tortilla are involved, there aren't many rules. In fact, the eggs are even optional. Beans, steak, cheese, bacon, avocado, chicken, potatoes, salsa are all common ingredients, and various permutations of those are what you'll find most frequently. As eggs aren't always my favorite thing, I would frequently get chicken peppers onions and cheese from Tacodeli (the frontera taco). You don't even have to eat them for breakfast, many places you can get an eggy delight for lunch as well. Look, there's no rules. Just eat them and be happy.
A brief history of breakfast tacos
Tex-Mex cuisine is not the same as Mexican food (which of course isn't really a thing because Mexico is full of diverse regional cooking styles that are unique and wonderful to explore). Tex-Mex actually originates from the Tejano people, Texas settlers of Mexican decent. It's a uniquely Texas cuisine that is heavily influenced by Mexican roots, and American elements brought in by railroads after the Civil War. (source)
While Tex-Mex has a long rich history, breakfast tacos are a modern invention. The earliest reference is in 1975 in the Arizona Republic describing the reporter's trip to San Antonio. In 1976 the El Paso Herald-Post held an advertisement for breakfast tacos. In 1983 Texas Monthly blurbed about breakfast tacos in Austin's Julio's Cafe. (source) So the exact moment and location of invention of the breakfast taco is unclear, but it's only been around for 5 decades or so (notably invention was not in Austin, see below).
Austin taco scene tends a little hipster (you'll find more fusion or out-there taco ideas in addition to more traditional taco fare), while San Antonio tends more authentic Mexican or Tex-Mex in their tacos. (Do they even eat tacos in Houston or Dallas? Who cares.)
2016: The Breakfast Taco Summit
In February 2016 an article appeared in Eater Austin that would change the course of history. Matthew Sedacca claimed Austin as the birthplace of the phrase "breakfast taco". While he technically claimed Austin was the birthplace of the *phrase* breakfast taco (which is also not accurate), the widespread interpretation was that Austin was claiming to have invented the breakfast taco. The response was swift and ferocious. San Antonio took it as a personal offense, a slight against their good name. A change.org petition was filed on behalf of the people of San Antonio to expel Matthew Sedacca from Texas for his crime. An excellent quote from the petition: "Without fail, sophomoric claims of taco-superiority have been issued from Austin-based brunch-chair-experts on a nearly annual basis, threatening the harmony between the city of Austin and the cities with populations of Native Texans greater than 10%." (Note the subtle dig on Austin of being made up of less than 10% "Native Texans", which I, as a "Native Austinite" agree is probably accurate). In response to the petition, Austin mayor Steve Adler declared war on San Antonio. The region was in turmoil, battles were waged in print and social media. http://whoinventedbreakfasttacos.com/ was registered. Brother turned against brother, our great union threatened to come apart.
On March 10th, 2016, battle lines were crossed. San Antonio mayor Ivy Taylor journeyed to Austin to meet with Steve Adler and work out a taco truce, and proclaimed peace with the signing of the "I-35 accords". They officially declared both city's tacos as "delicious", and proclaimed March 10th officially "breakfast taco day". Adler declared: "As St. Paul admonishes us, let us not be overcome by evil, but overcome evil with breakfast tacos. We will have guac in our times…. Let us break our fast with the tortilla of hope and the egg of peace." Taylor brought tacos from her favorite SA taco spot Mittman Fine Foods, while Adler proffered tacos from ATX's famous Juan in a Million. They were moved to make peace quickly before then-President Obama's visit later that week, so he wouldn't be visiting a war zone. Adler again: "Some of you may look upon these breakfast tacos and feel only hunger. I pity those people, for when I look at these breakfast tacos, I feel hope and a renewed friendship between our cities." (source)
I told you this was serious business.
(PS – for more great Steve Adler quotes, check out his comments on sending the recipe for Kerbey Lane's queso (another thing Austin people are passionate about) to the moon.)
---
Breakfast Tacos in Arizona: The Jess Special comes to my kitchen
I do proudly claim Austin as my homeland, and while I really like living in Tucson, I do sorely miss the ubiquity of breakfast tacos since moving here. Seis Kitchen in Tucson is the only place I've found so far that has them on the menu (happy to take recommendations if you know another place), and they are delicious. But it's the abundance, variety, and cultural touchstone that I miss.
So today I decided to make my own facsimile of one of my favorite breakfast tacos, the Jess Special from Tacodeli. I added to it and changed a bit, because, in the words of Aunt Tabitha, that's my business.
I started with some steak strips, seasoned with chile powder, cumin, garlic powder, salt, and oil. I also fried up some onions and poblano strips. Neither of these are part of the original Jess Special, but that's my business.
The heart of the Jess Special is the migas. Apparently a lot of different things go by the name "migas", but in Tex-Mex migas consist of eggs, peppers, tomatoes, onions, cheese, and the essential ingredient, crunched up tortilla chips. Pro tip: add the chips at the very end of cooking the eggs to avoid excessive sogginess. I added them a bit too soon today and they came out too soggy for my tastes.
And now for plating. Don't forget to heat the corn tortillas over a dry skillet for a few seconds on both sides, or you will have structural integrity issues. Additional life hack, two tortillas per taco, for additional structural integrity, and also because Sprouts only had the very small size of corn tortillas in stock yesterday. That's how to pros do.
First I laid down the steak peppers and onions, then migas. Topped with more cheese, avocado, and some Doña sauce I made. Doña sauce is a Tacodeli invention and closely kept secret, but I found a recipe online of someone trying to emulate it. It's basically garlic, oil, salt, and a ton of jalapeños. Mine came out nicely spicy, but too much garlic, use less next time. (recipe for migas and Doña sauce)
The end result!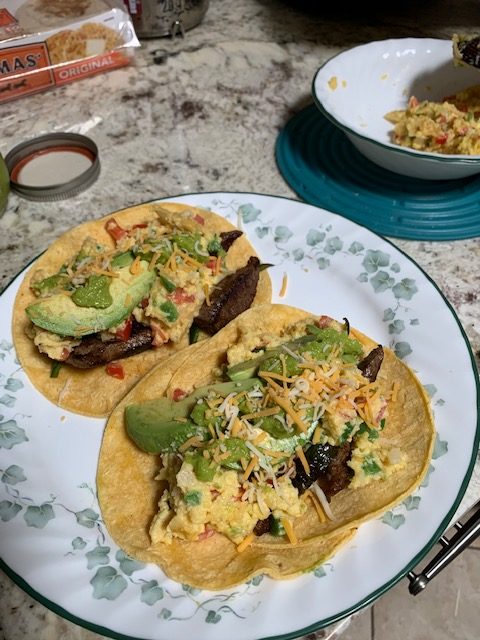 Quite tasty. Not exactly the same, of course. But 10/10 would eat again.
---
The song of the day comes from one of my very favorite Austin artists Shinyribs (a.k.a. Kevin Russel). He made a song called "Donut Taco Palace" about a chain of hole-in-the-wall donut and taco places in Austin called "Donut Taco Palace". If you want to sing along, the chorus goes "Donut Taco Palace, Donut Taco Palace, Donut Taco Palace, Donut Taco Palace…." You get the idea.