Jared and I traveled to Las Campanas Observatory over the last 24 hours, and we're finally ready to relax get things ready before the rest of the team rolls up. Also, the travel day blog has unofficially served as the repository for surprises, changed policies, and caveats for travelers in These Unprecedented Times—so I better get them written down before I forget.
Most of the tips from the previous Day 0 post remain valid. We did, however, see some people randomly selected for post-arrival COVID-19 tests this time.
Tucson
Documentation exigencies were the lowest since the beginning of the pandemic, with only the usual passport check required. (I did hand over my vaccine cards in my passport, so I guess the agent knew I had them if needed, but no online pre-approval is required any more.)
The TUS-ATL leg was uneventful, aside from some drama wherein the Delta reservation system informed Jared that, not only was he being "upgraded" to a middle seat, but it was because his profile in the system indicated an expressed preference for middle seats. ("Said no one ever," as the saying goes.)
I also got "upgraded" the night before and was able to switch it back quickly, but something's clearly awry in the Delta system. Double-check your seats before you show up!
Atlanta
The Atlanta layover was uneventful, but we did notice another system malfunction: The Plane Train between terminals at ATL was in a reboot loop. We lacked the foresight to capture it for the #blog-ops channel, but apparently it does this a lot and Reddit had evidence.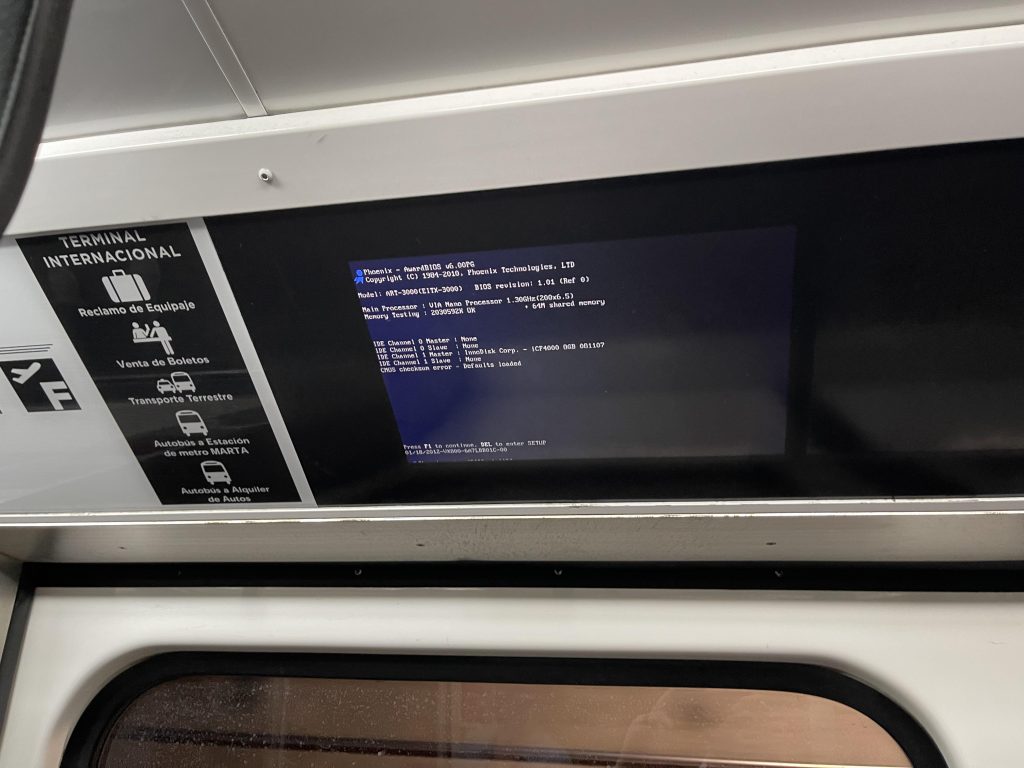 Don't worry: it was only the informational displays that were on the fritz. We did not end up stuck on a ghost train.
Also, the Atlanta gate agents were the ones who could get Jared his preferred seat back. Hooray for solving problems (of their own creation)!
In the air between Atlanta and Santiago
The new Airbus Whatever that we flew on for the long haul Delta flight from ATL to SCL was pretty dang nice. By making the seat backs paper thin and rigid they somehow seem to have increased legroom in main cabin. And I didn't notice the chairs being less comfortable—notably, they're more comfortable than the LATAM flight I took from LAX to SCL for 2022B.
Also, I recommend flying on a Tuesday; it seems to maximize your chance for an empty middle seat in your row. The aisle seat was occupied by a Brazilian dude named Victor who had relocated to Chile by going on vacation and never returning, then gotten a job in the Chilean embassy in DC, and now lived in Arlington, Virginia. If he is to be believed, he had previously worked not only as an embassy staffer but also as a crane operator at a mining camp in Chile and as a LATAM flight attendant, and he had quit the embassy gig to pursue some self-employment hustle.
He also said Chilean food was amazing and his favorite thing about the country. No lies detected.
Santiago
Clearing customs was uneventful. After customs, if you head left down the hall with the taxi stands, there is a LATAM recheck counter. We usually ignore this and take our bags across the way, but today we had a minor surprise: they would not accept Jared's bag for check-in at 8:30 AM for a 1:00 PM flight. They relented after some convincing, fortunately. I, on the other hand, had re-checked my bag with the LATAM agent after customs—sparing me both the schlep and the kvetch.
Note that without LATAM "priority" (i.e. Delta loyalty status) there could be a long line to re-check bags after taking them across to the domestic terminal, which is another argument in favor of re-checking after customs. (An argument against is that the bag re-check agent in the basement is always the slowest person LATAM has working on any given day.)
The Santiago airport layover otherwise provided its usual limited selection of amusements: McDonalds and Starbucks. The McTrashcan was out of order, however.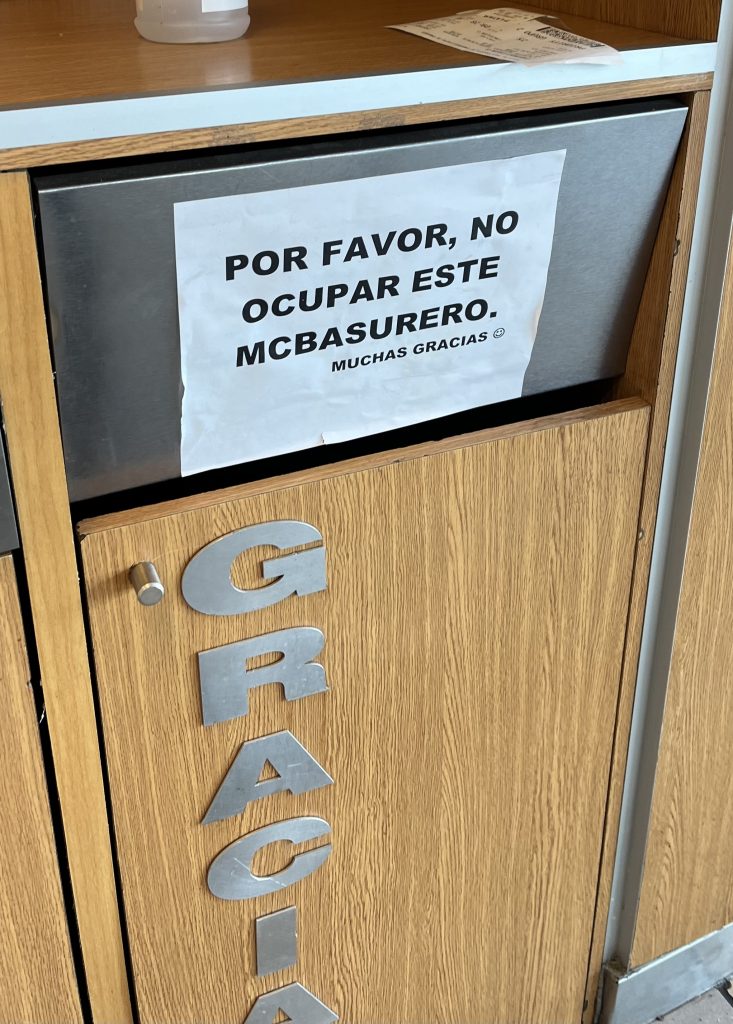 There was also some more software gore in the ordering kiosk. Surely nobody would want to use the English interface and pay with a card, right?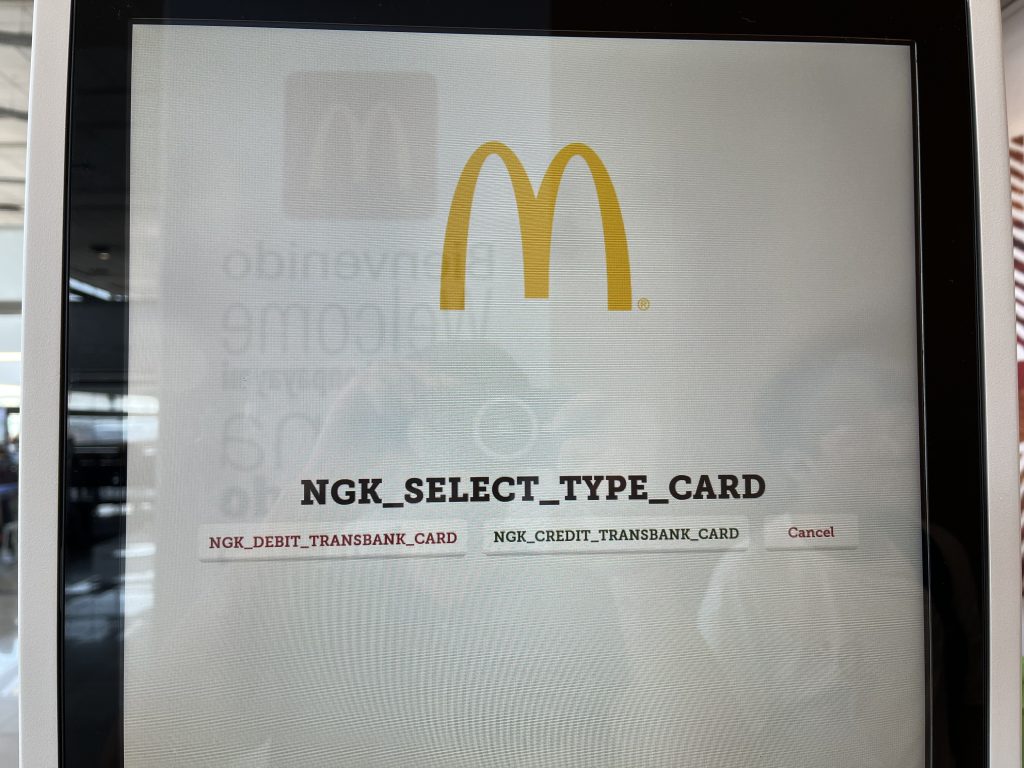 After several tests, exactly one pair of working outlets was identified at the corner of the Starbucks seating area against the window, near the boarding door for the adjacent gate. (We wish you luck in securing them.)
La Serena
The flight to La Serena got a little loopy. Nothing to worry about, unless you're operating on few hours of sleep and wondering if you got stuck in a time loop.
Once we got out of the holding pattern, we were on the hardstand in minutes.
[I had a selfie to include here but upon review I look way too tired.]
After retrieving our bags from the (only) baggage carousel, we were whisked away by Sol del Valle Transportation in a well-appointed minivan. La Serena delivered street art as usual: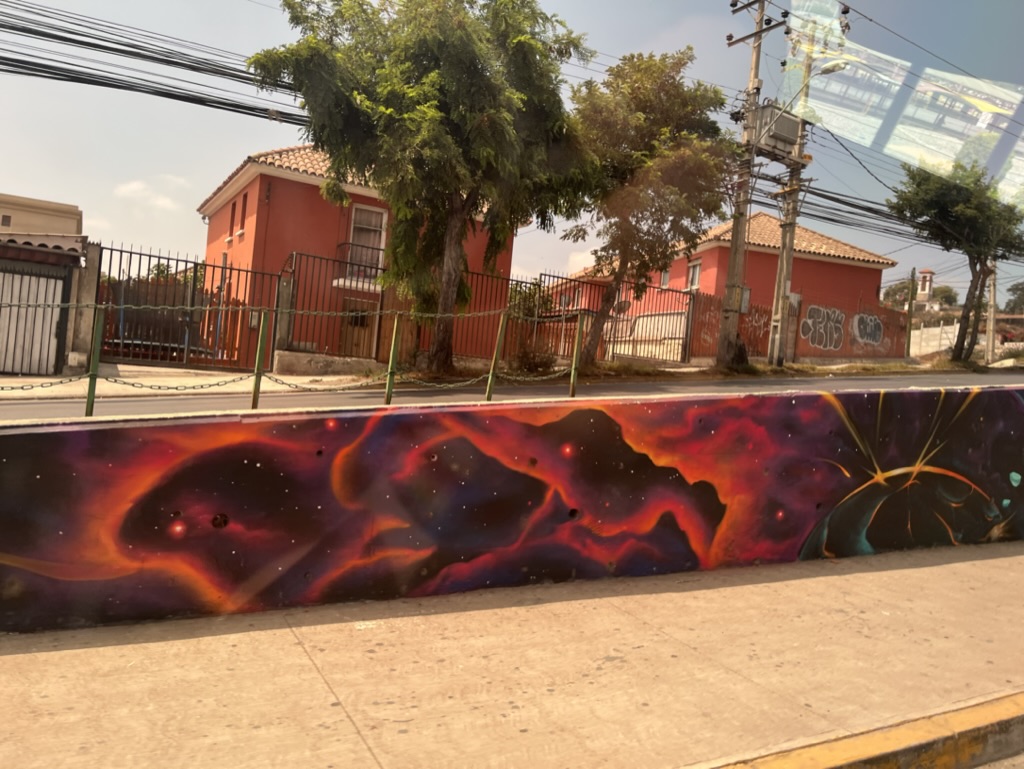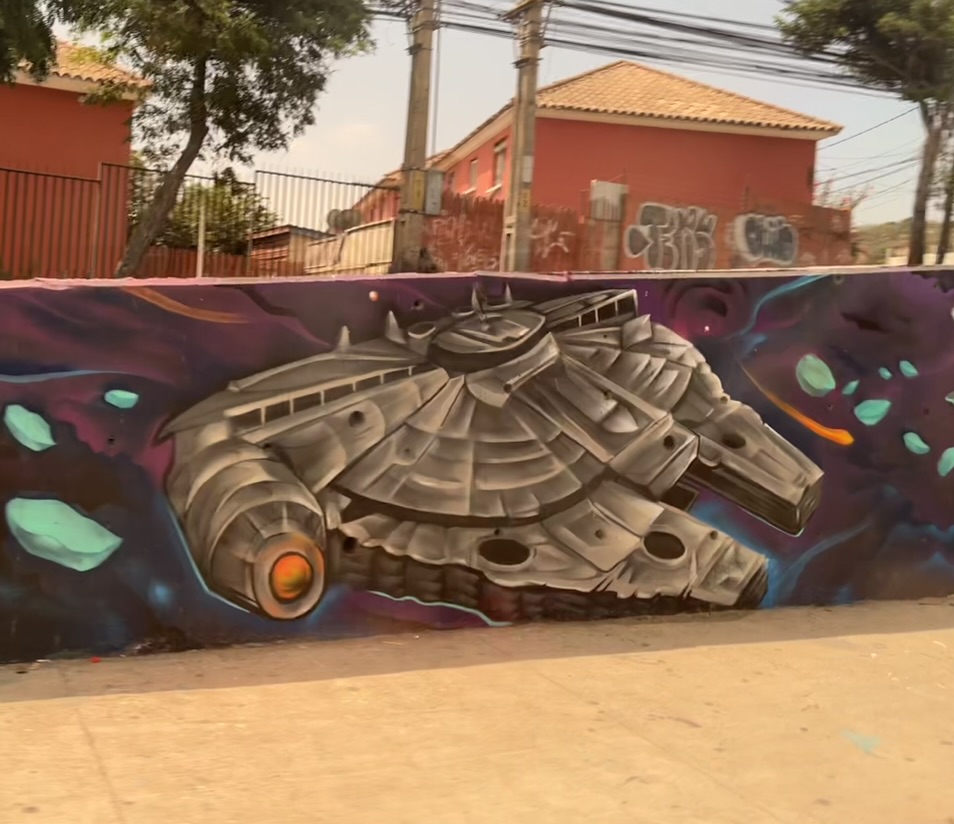 Mostly, I noticed all the striking truckers that weren't there.
Las Campanas
The security measures at the turnoff to Las Campanas are more effective than any chain barrier.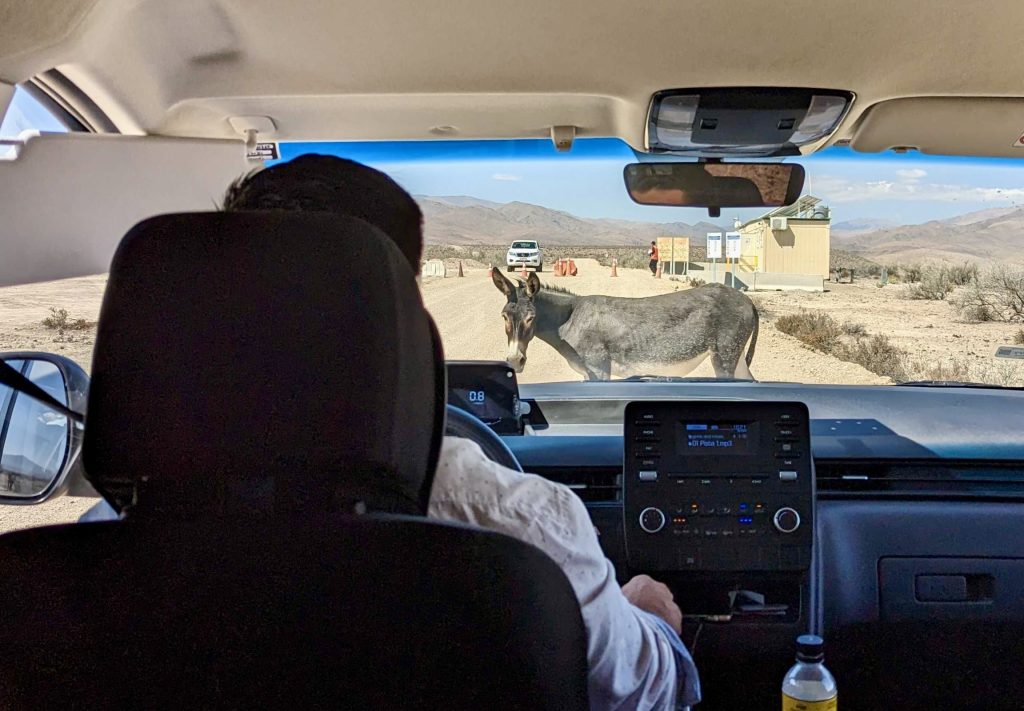 The transport from La Serena to Las Campanas got us in around 5:30—to the paramedic station, to get our nostrils swabbed. They appear to have shortened the swabs themselves, effectively discouraging the nasopharyngeal gouging ritual that had been the standard in the past.
This paramedico is my new favorite!

Jared R. Males, Ph.D.
We aren't nearly as well supplied for our three-day bubble-mode this time. I didn't even have a mug provided to use with my coffee pot! Fortunately, I brought my own: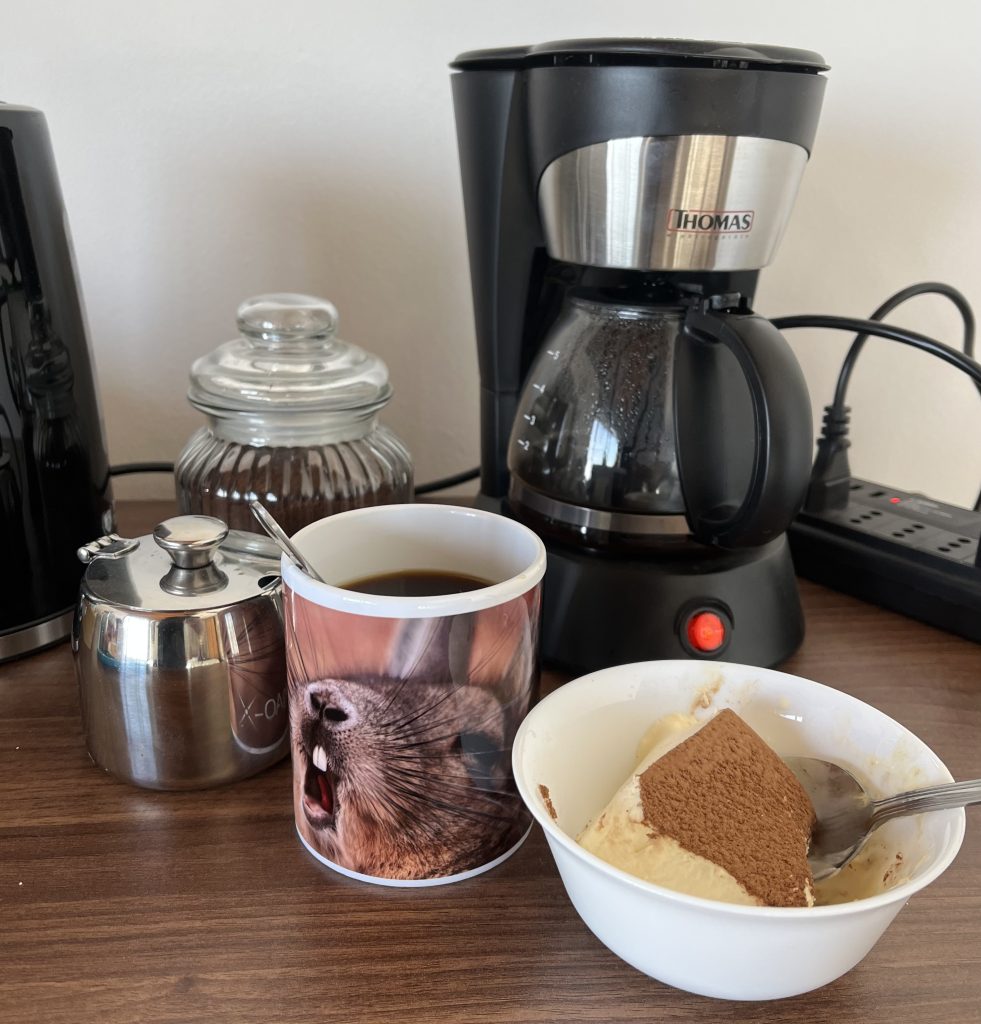 So, there you have it. Tucson to Las Campanas in 24 easy hours. Time to collapse.
Song of the Day
There is no rule this time that the Song of the Day must be thematically appropriate, but we did just Get Out of Tucson…
Song of the day provenance and context: I've long been a fan of CHVRCHES, and I saw CHVRCHES perform this in concert in Tucson with lab alumna Dr. Lauren H. Schatz, Ph.D. back in 2019.
It looked like this: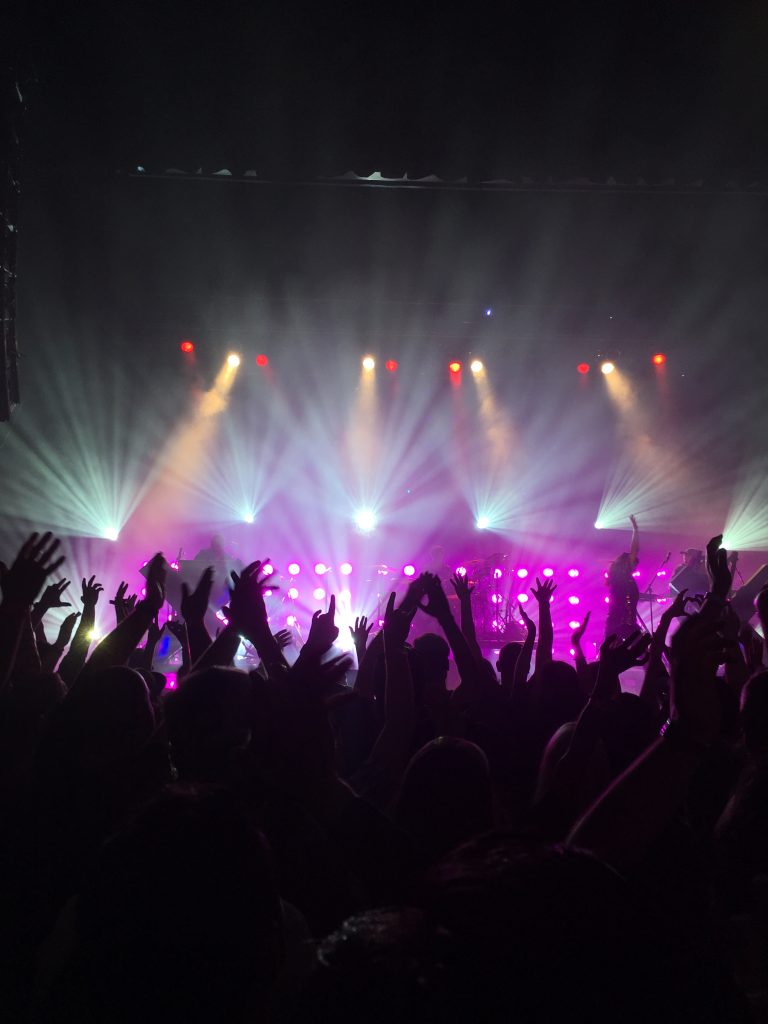 And she looked like this: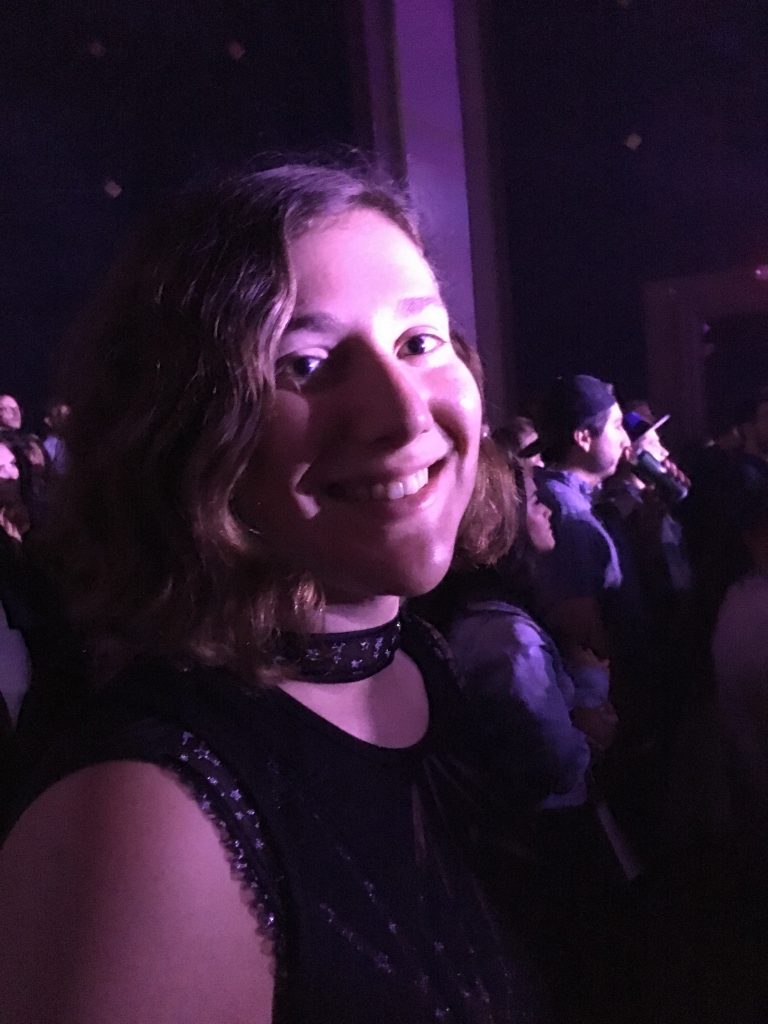 Good times were had by all.