Last Friday our shipping contractor (or at least our shipping contractor's contractor) collected MagAO-X.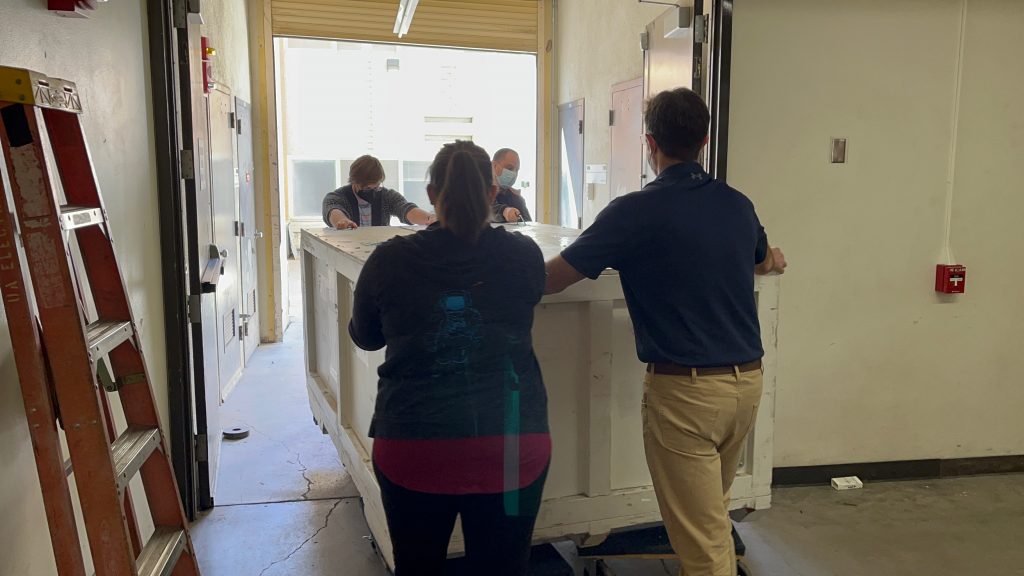 After it was loaded, Dr. Males said "I'm going home to not think about MagAO-X," as is tradition.
MagAO-X now travels by ground to Miami, then by air to Santiago, then by ground again to the Las Campanas Observatory. I will follow its progress like last time.
Song of the Day
Tracking Tucson to Miami
| | | | | | | |
| --- | --- | --- | --- | --- | --- | --- |
| Date | Time | Location | | Time elapsed | Distance | Speed |
| 2022-03-04 | 10:30 MST | Tucson, AZ | Truck arrives | | | — |
| | 11:38 MST | Tucson, AZ | MagAO-X completely loaded on truck, departs from campus | | | — |
| 2022-03-05 | 13:08 MST | Tucson, AZ | Shipment departs logistics center | | | — |
| | 20:21 CST | El Paso, TX | Arrives at intermediate logistics center | 1d 6h | 318 mi | 11 mph |
| 2022-03-06 | — | — | | | | |
| 2022-03-07 | 07:02 CST | El Paso, TX | Back on the road | | | |
| | 10:53 CST | Wickett, TX | Arrives at intermediate logistics center | 2d 21h | 559 mi | 8 mph |
| | 11:10 CST | Wickett, TX | Back on the road | | | |
| | 13:49 CST | (Abilene, TX) | "Exempted from Service - SERVICE EXEMPTION DUE TO WEATHER" (What weather? A sudden storm of "delay"?) | | | |
| | 14:50 CST | Abilene, TX | Arrives at intermediate logistics center | 3d 1h | 772 mi | 11 mph |
| | 21:10 CST | Abilene, TX | Back on the road | | | |
| 2022-03-08 | 00:12 | Dallas, TX | Arrives at intermediate logistics center | 3d 10h | 953 mi | 12 mph |
| | 19:42 CST | Dallas, TX | Back on the road | | | |
| | 23:17 CST | Shreveport, LA | Arrives at intermediate logistics center | 4d 9h | 1141 mi | 11 mph |
| 2022-03-09 | 04:23 CST | Shreveport, LA | Back on the road | | | |
| | 08:04 CST | Richland, MS | Arrives at intermediate logistics center | 4d 18h | 1362 mi | 12 mph |
| | 09:46 CST | Richland, MS | Back on the road | | | |
| | 13:48 CST | Robertsdale, AL | Arrives at intermediate logistics center | 5d | 1575 mi | 11 mph |
| | 13:55 CST | Robertsdale, AL | Back on the road | | | |
| | 18:45 EST | Monticello, FL | Arrives at intermediate logistics center | 5d 2h | 1824 mi | 15 mph |
| | 20:41 EST | Monticello, FL | Back on the road | | | |
| 2022-03-10 | 00:48 EST | Orlando, FL | Arrives at intermediate logistics center | 5d 10h | 2061 mi | 16 mph |
| | 02:33 EST | Orlando, FL | Back on the road | | | |
| | 06:08 EST | Hialeah, FL | Arrives at intermediate logistics center | 5d 15h | 2292 mi | 17 mph |
| | 13:39 EST | Hialeah, FL | Out for delivery to DB Schenker | | | |
| | 15:48 EST | DB Schenker Miami | Arrived | 6d 1h | 2308 mi | 16 mph |
| ? | ? | Miami International Airport | | | | |